Your children can have the experience of growing up in a village!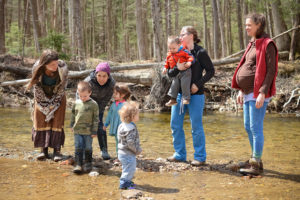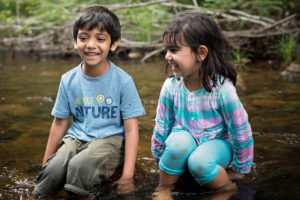 Our Coyote Pups caregiver and child program is a time where you and your little one can explore and learn about nature together. Meet families who share your love of nature and enjoy the community and friendships that form. Children in the program range from infants to five years old. Over the course of the morning, we sing songs, play games, create art, listen to stories, explore the forest, harvest wild feasts, and much more! Aunties, uncles, grandparents, and other adult caregivers are welcome to bring your little one, too.
While the program includes ages 0 to 5, the core group activities are created for ages 2 to 4 years old. Children under one can attend for free with an older sibling.
Winter Pups
During the winter we spend a couple of hours outdoors, bundled up for a winter hike, while we look at animal tracks, perhaps enjoy warm wild birch tea around a campfire, sing songs, and play games together. We will keep moving to stay warm (so bring a baby carrier or backpack for little ones) and enjoy each other's company as we explore the land together. Children will learn through observation as their grown-up models how to enjoy the beautiful outdoors through the winter. Wearing layers is imperative for Winter Coyote Pups and their caregivers.
Spring and Autumn Pups
During the school year, we meet weekly on the same day as our Coyote Village classes for older kids. Children can look forward to many games, stories, crafts, and exploration as they learn alongside their caregiver.
Spring and Autumn sessions include the option to join our village overnight with your family. Pups & Wild Seeds (our 5-7 age group) camp together with their siblings and parents in a tent village. More information will be provided after registration.
Summer Pups
Summer Pups have a choice (depending on location) of weekly meetups or a one-week "mini-camp" as we build community and get to know each other. You can opt for the weekly camp, full-week mini-camps, or a combination.
Registration is accepted on a rolling basis until the program is full. Scholarships are available. We offer a sibling discount for Pups and siblings under one year (babes in arms) are free.
See below for a list of important dates to note for each season. You can also find the full schedule on CampBrain when you register. Enrolled families will be notified via email of any changes to the schedule.
Monday classes (Granby)

FALL (Sept 12 – Nov 14): Overnight Oct 3, Ancestor Feast Oct 31, Make up class Nov 21
WINTER: This is a one-day program on Jan 23rd, with a make up class on Jan 30th
SPRING (March 13- May 15): Overnight April 17, Make up class May 22

Tuesday classes (Killingworth)

FALL (Sept 13 – Nov 22): No class Oct 4; Overnight Oct 11, Ancestor Feast Nov 1, Make up class Nov 29

WINTER (Jan 3 – Feb 21): Make up class Feb 28

SPRING (Mar 14 – May 2): No class Apr 18; Overnight Apr 11; Make up class May 30

Thursday classes (Newtown)

FALL (Sept 15 – Nov 17): No class Oct 20 or Nov 24; Overnight Oct 6; Ancestor Feast Nov 3; Make up class Dec 8

WINTER (Jan 5 – Feb 23): Make up class March 2

SPRING (Mar 9 – May 18): No class Apr 27; Overnight Apr 6; Make up class June 1

Friday classes (Newtown)

FALL (Sept 16 – Dec 2): No class Oct 7, Nov 25; Overnight Oct 14; Ancestor Feast Nov 18; Make up class Dec 9
WINTER (Jan 6 – Feb 24): Make up class March 3
SPRING (Mar 17 – June 2): No class Apr 7 or May 26; Overnight May 5; Make up class May 26
Registration Now Open
Register Today!
If a session is full, please join the waitlist and we will contact you should a spot become available.
| Name | Ages | Location | Time | Date(s) | Price |
| --- | --- | --- | --- | --- | --- |
| Fall Pups | 0-5 | Granby | 9am-11:30am | Mondays Sept 12 - Nov 14 | $255 |
| Fall Pups | 0-5 | Killingworth | 9:15am-11:45am | Tuesdays Sept 13 - Nov 15 | $255 |
| Fall Pups | 0-5 | Granby | 9am-11:30am | Wednesdays Sept 14 - Nov 30 | $255 |
| Fall Pups | 0-5 | Newtown | 9:15am-11:45am | Thursdays Sept 15 - Nov 17 | $255 |
| Fall Pups | 0-5 | Newtown | 9:15am-11:45am | Fridays Sept 16 - Dec 2 | $255 |
| Winter Pups (One Day Program!) | 0-5 | Granby | 10am-12pm | Monday, January 23rd, 2023 | $25 |
| Winter Pups | 0-5 | Killingworth | 10:15am-12:15pm | Tuesdays Jan 3 - Feb 21 | $205 |
| Winter Pups | 0-5 | Newtown | 10:15am-12:15pm | Thursdays Jan 5 - Feb 23 | $205 |
| Winter Pups | 0-5 | Newtown | 10:15am-12:15pm | Fridays Jan 6 - Feb 24 | $205 |
| Spring Pups | 0-5 | Granby | 9am-11:30am | Mondays Mar 13 - May 15 | $255 |
| Spring Pups | 0-5 | Killingworth | 9:15am-11:45am | Tuesdays Mar 14 - May 23 | $255 |
| Spring Pups | 0-5 | Granby | 9am-11:30am | Wednesdays Mar 15 - May 24 | $255 |
| Spring Pups | 0-5 | Newtown | 9:15am-11:45am | Thursdays Mar 9 - May 18 | $255 |
| Spring Pups | 0-5 | Newtown | 9:15am-11:45am | Fridays Mar 17 - June 2 | $255 |
| Summer Pups Mini-Camp | 0-5 | Granby | 9-11:30am | June 26 - 30th, 2023 | $175 |
| Summer Pups Mini-Camp | 0-5 | Granby | 9-11:30am | July 31 - Aug 4 | $175 |
| Summer Pups Mini-Camp | 0-5 | Newtown | 9:15am-11:45am | June 26 - 30th, 2023 | $175 |
| Summer Pups Mini-Camp | 0-5 | Newtown | 9:15am-11:45am | Aug 14 - 18, 2023 | $175 |
| Summer Pups Weekly Camp | 0-5 | Newtown | 9:15am-11:45am | Thursdays July 6, 13, 20, 27, Aug 3 | $175 |