We believe that every person has a unique and sacred gift to share with the world. We call our teaching staff "mentors" because they help people to discover their gift and power by connecting them to nature and their heart.
Interested in joining our staff team? Let us know.
Scott M. Baker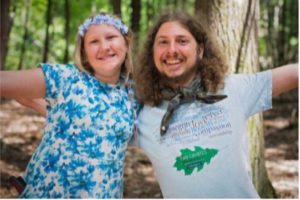 Since the age of 14, Scott has been immersed in the natural world through the magic and culture of Two Coyotes. He began his journey with the school as a summer camp student, and continues it now with many 8 Shields-based nature programs throughout the northeast. He enjoys the opportunity to teach and pass on a deep appreciation for and knowledge of nature. A lifelong homeschooler, he can be found in his natural habitat exploring the woods, honing his primitive skills, or playing the steel pan (as a former member of the renowned St. Luke's Steel Band).
Izzy Betts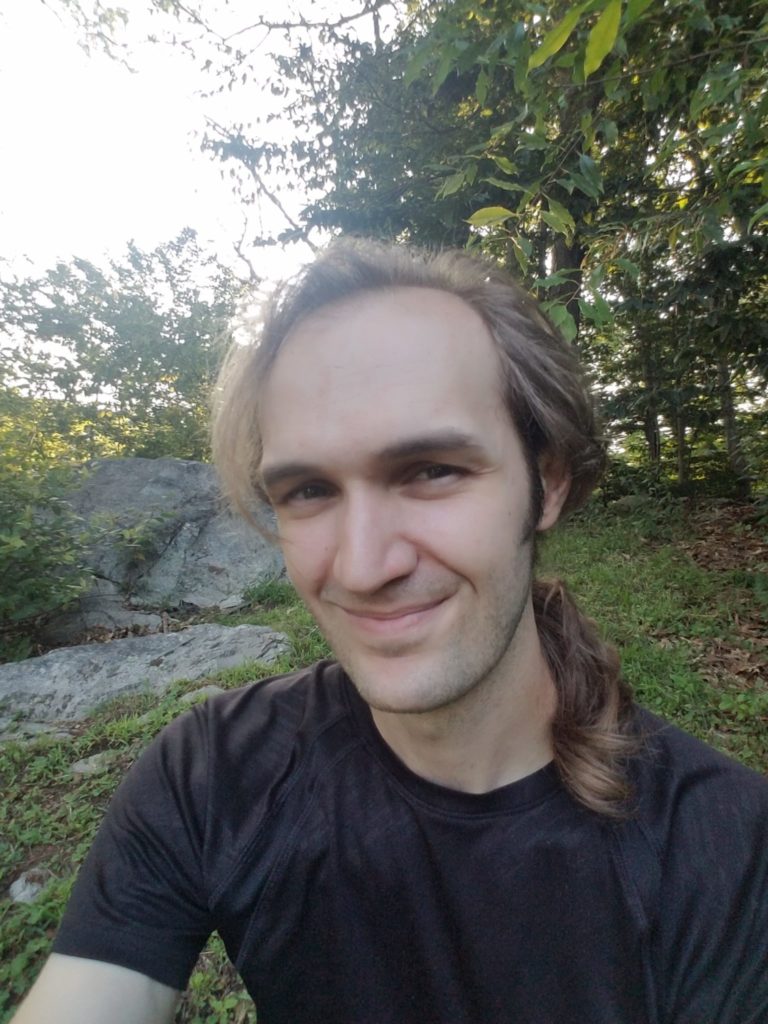 Izzy has been fascinated by the great outdoors since he read "My Side of the Mountain" and Gary Paulsen's "Hatchet" series when he was a kid. He is especially interested in how our ancestors made and used tools to exist in and alongside nature, and has been forging and using knives, axes, and other tools for more than ten years. Having a BA in English Literature with a focus on short stories and poetry, he also enjoys telling stories and teaching storycraft to anyone willing to listen, and deeply believes in the power of stories to connect us to ourselves and our world. His natural habitats include riparian forests, mountains, and wherever the forge happens to be.
Noel Cherubino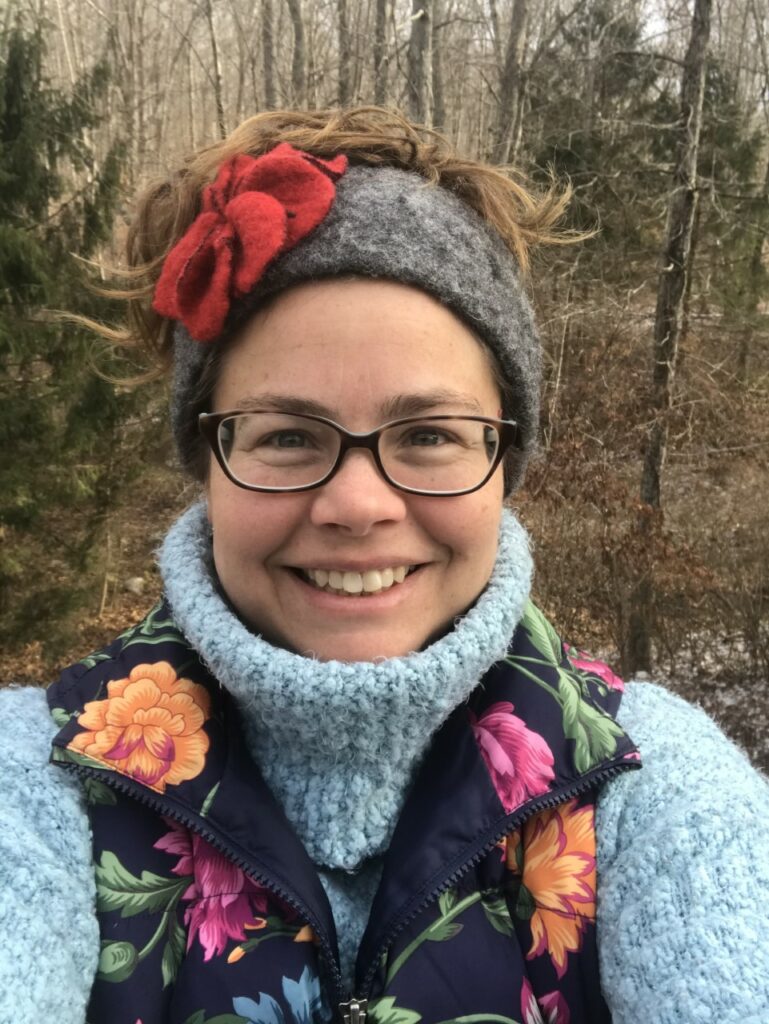 Noel's love of nature began as a child playing with friends in the woods of small town Connecticut and camping with family. Her interest expanded from play to include primitive skills and nature awareness when she met Scott Eldridge, founding director of Two Coyotes, in a Wilderness First Responder class in 1999 while pursuing a certificate in Adventure Education. She went on to travel to various workshops and primitive skill gatherings up and down the east coast and to Arizona before settling back down in Connecticut and reconnecting with Two Coyotes by enrolling in Pups with her two children. Upon her return, Noel quickly transitioned from participant to Pups Mentor and has continued in this role as her children transitioned to Wild Seeds.
Marco Frascone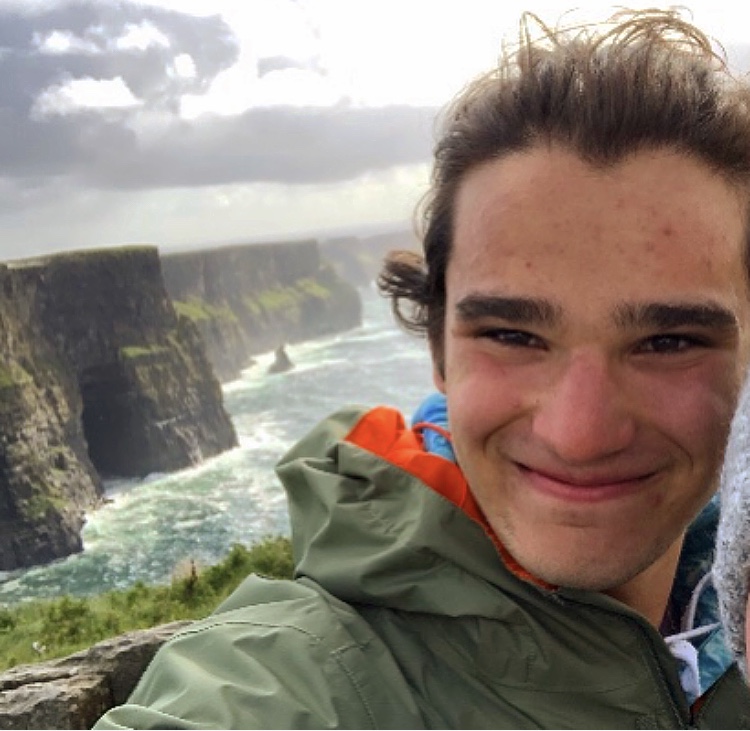 Marco has always found his passion and truth in nature! He is fun loving and adventurous. He is constantly trying something new and challenging himself to change and grow as a person. He is an avid wood carver and artist and practices many mediums of expression ranging from large scale public murals to Peruvian cajon drum crafting and wood sculptures. Marco is often found in his workshop creating something new, or planning an adventure to a distant land. He believes in our capacity for love as humans and that connecting to our planet fosters connection amongst humanity. He is a large scale thinker and is always looking to see things from a perspective of we, not I, and us, not them. Marco can often be found in a hammock or hiking in local forests.
Hadley Gallen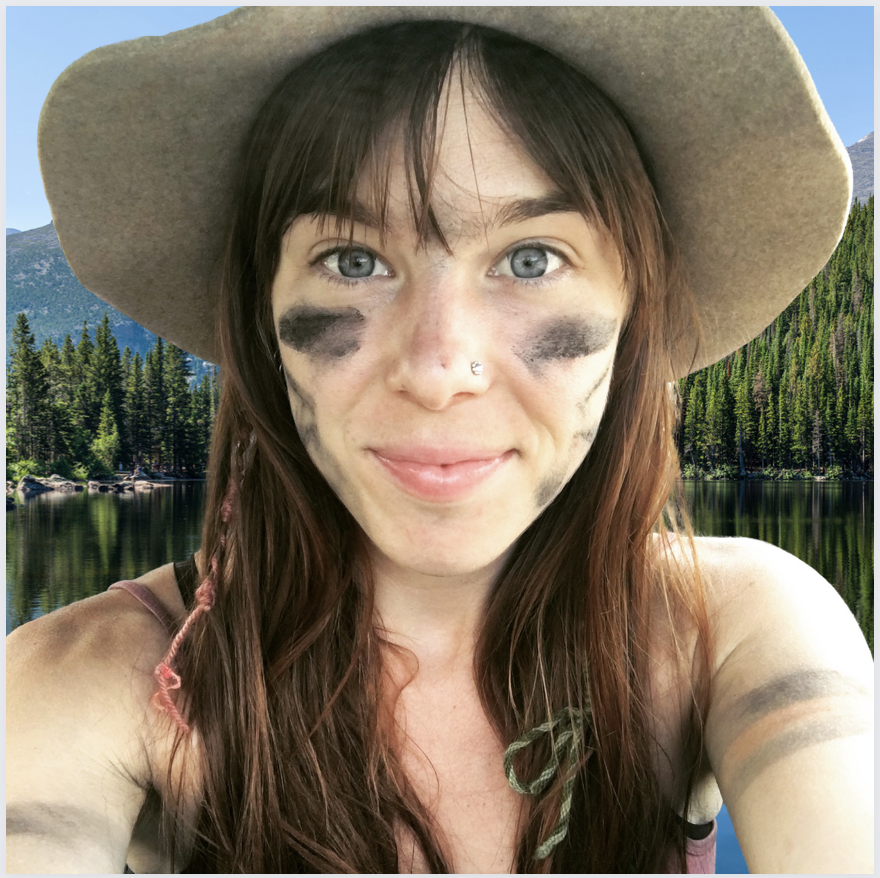 Hadley is a dancer, somatic explorer, plant lover and transplant to Connecticut! She comes to you from the western slope of the San Juan mountains in Colorado – from about 8,000 ft. She looks forward to working with your kids and getting to know the natural world of the East Coast.
Karolina Ksiazek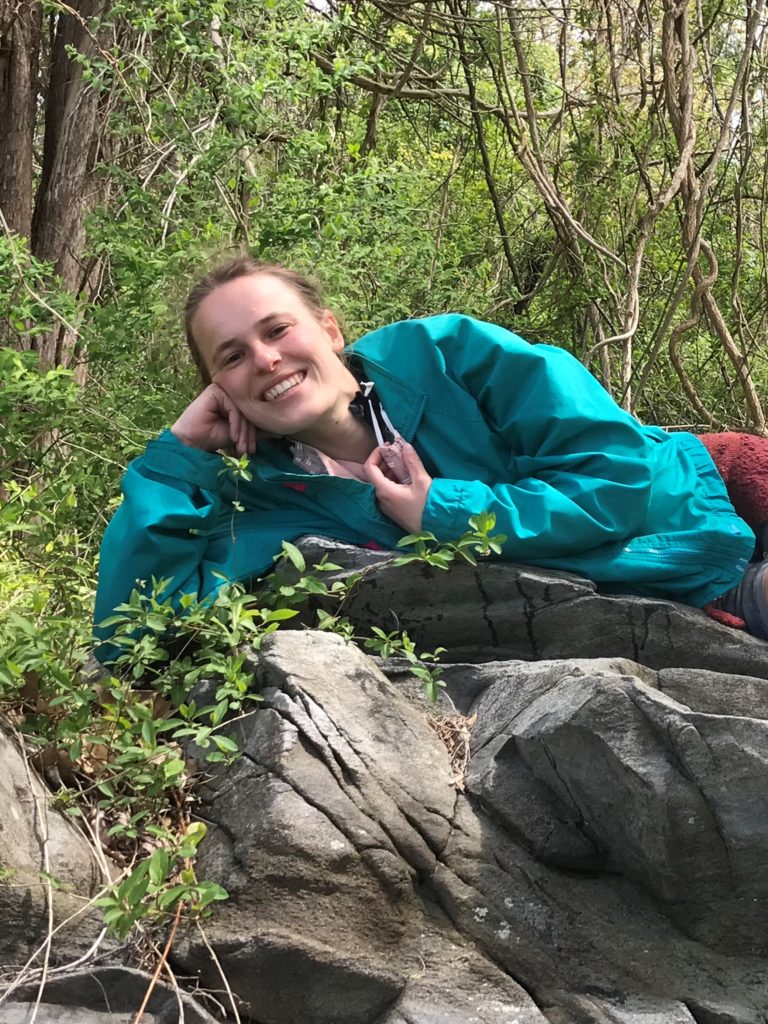 Karolina is an educator, urban planner, organizer, writer, and dancer. After a childhood mostly disconnected from nature, her interest in the environment ignited into a passion for nature connection when she finally had the opportunity to play, learn, and explore in the forests of Connecticut. With a BA in American Studies and experience working in city government, Karolina now aims to guide both children and adults in exploring deeper connections with our communities and with the land. She believes in approaching life with a listening heart, and with the courage to be changed by what we encounter on our adventures.
Will Laurie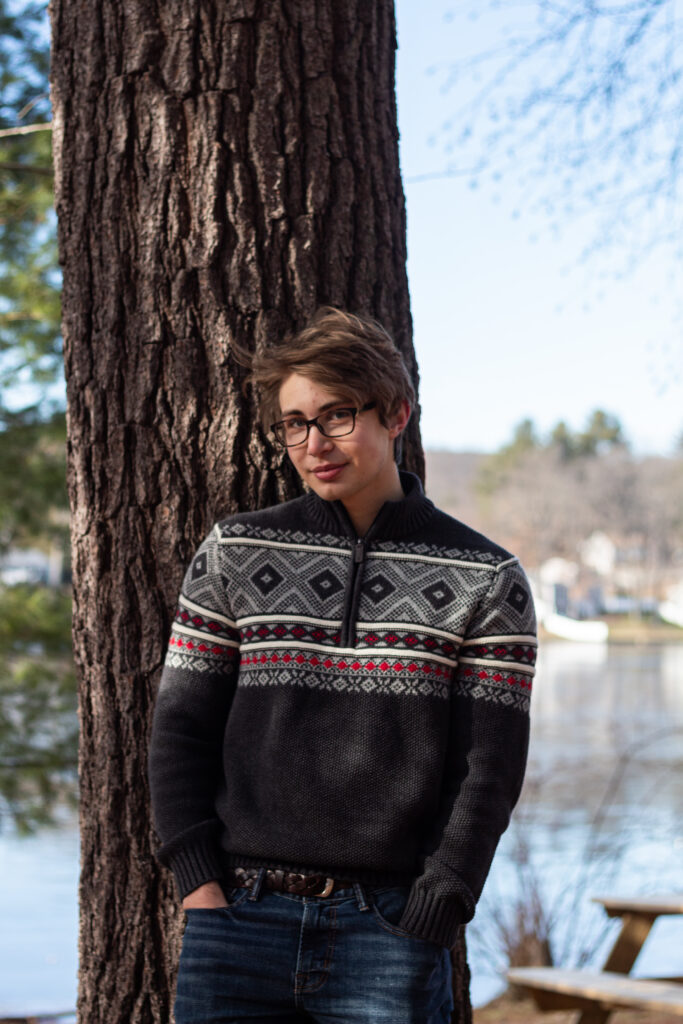 William Laurie is young poet and filmmaker who has attended Two Coyotes programs since the age of 3. He studied at Greater Hartford Academy of the Arts for Creative and Media Arts. The wilderness has always been a huge part of Will's life. It has helped him overcome fears and meet adversity with confidence and joy.
Katie Luekens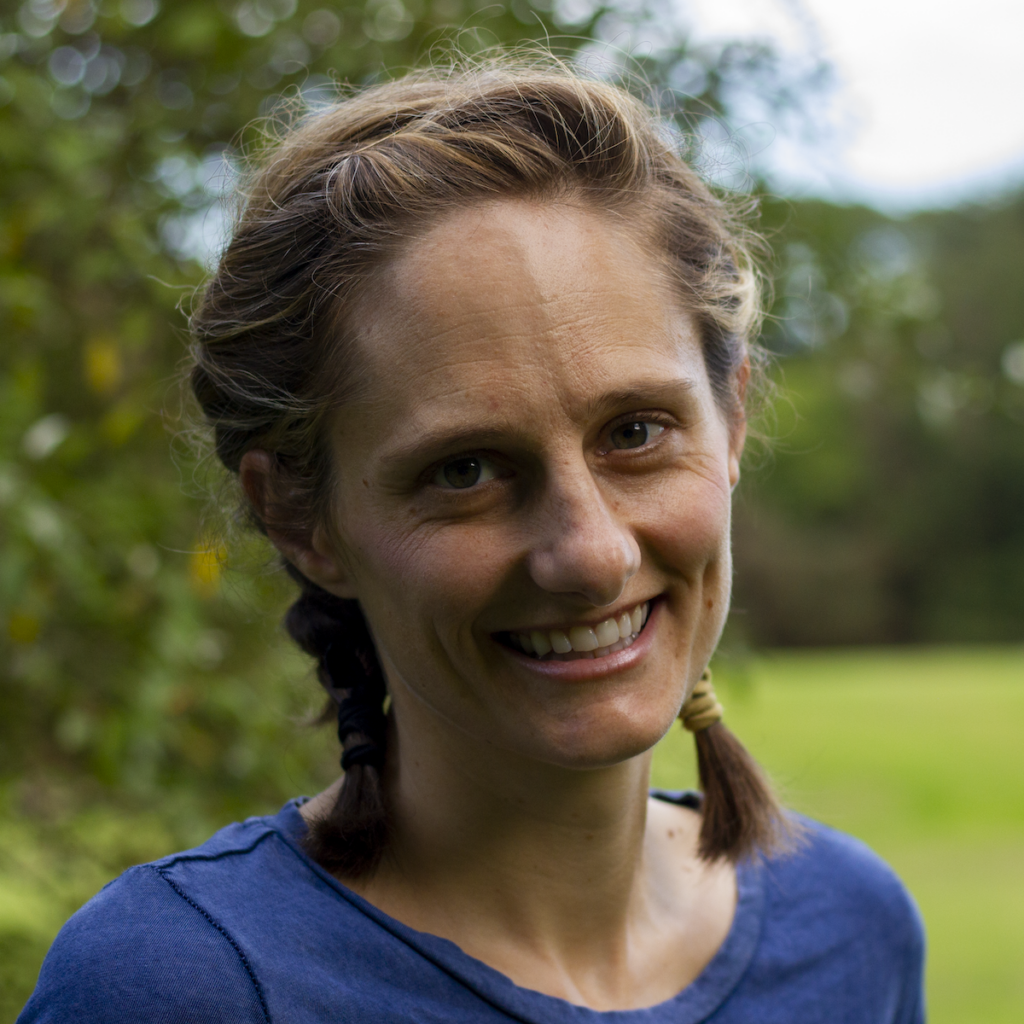 Katie is an educator, musician, and passionate advocate for children. With a degree in voice performance from Indiana University and a Masters in Education from The University of Bridgeport, she is dedicated to nurturing and supporting families and children as they explore their wildness through song, storytelling, and play. Katie's priority is to mentor children in an environment of love, diversity, community, and curiosity. She looks forward to delighting in the joy, laughter, and energy of the children in her programs.
She lives in Madison with her husband and three children, where they sing through the seasons, grow vegetables, bake bread, tend chickens, and collect and boil sap from their sugar maple trees.
Alycia Matchen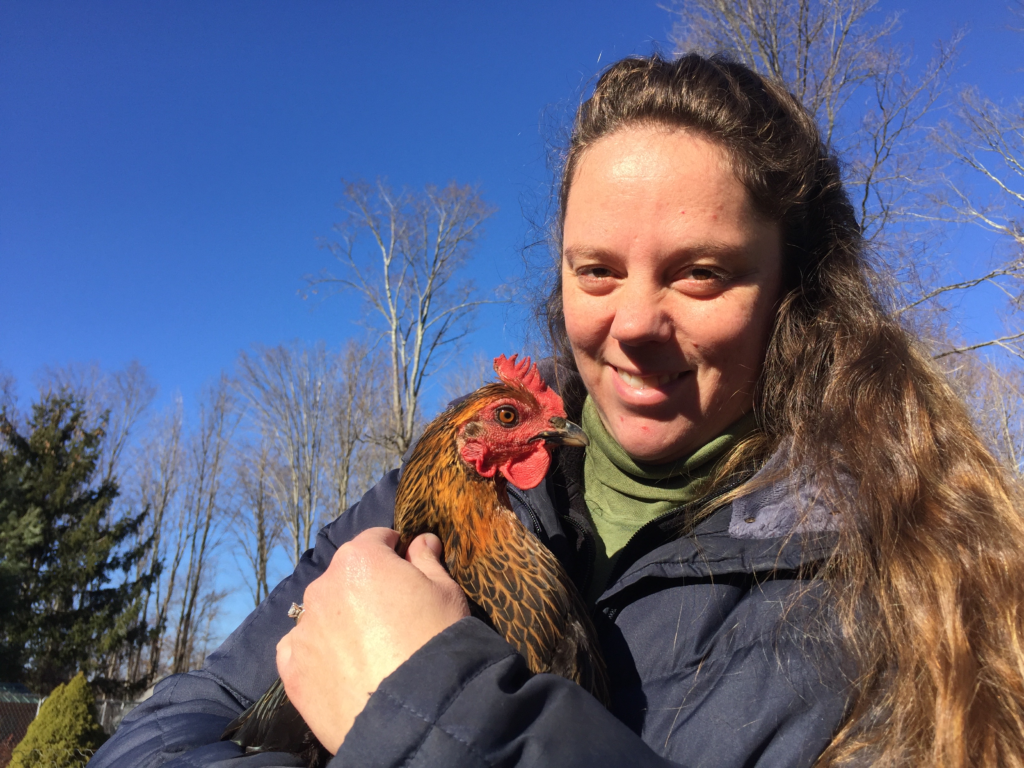 Alycia is a mother of two daughters who loves sharing, learning about and cooking or crafting in the great outdoors. She is a former Girl Scout leader, trained paralegal, trained medic, workout enthusiast and gardener. When she's not at Two Coyotes, Alycia is most likely working out, tending her chickens and garden, or homeschooling her daughters in creative ways.
Aja McCarty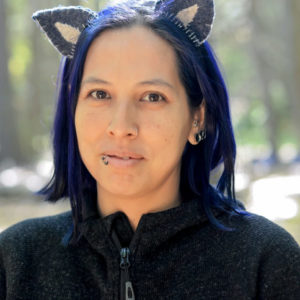 Aja brings light and love to every project she is involved with. She runs an urban homestead with her husband, 4 kids, and chickens in Simsbury, CT. Aja runs our Pups program in Granby.
Story McCarty.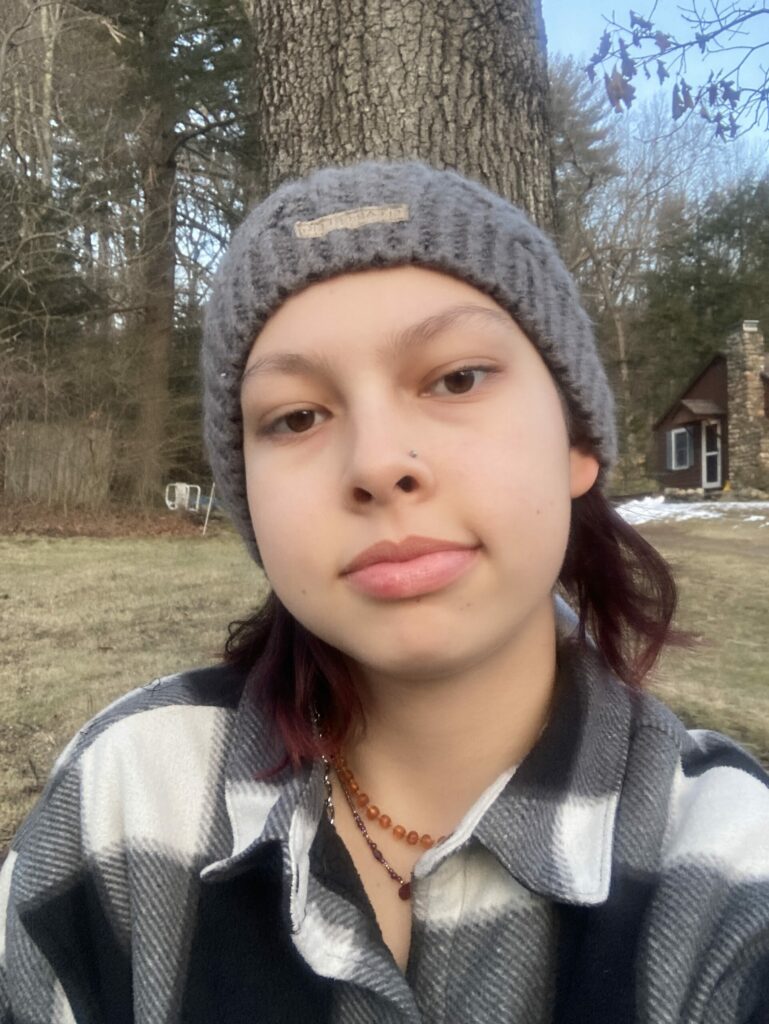 Story has been a member of Two Coyotes since she was 5 years old. She works with the Pups alongside her mom, Aja, and brings creativity and passion for nature to the program. Outside of high school and Two Coyotes, she enjoys hiking, skateboarding, creating art, and listening and playing music.
Stephanie Niles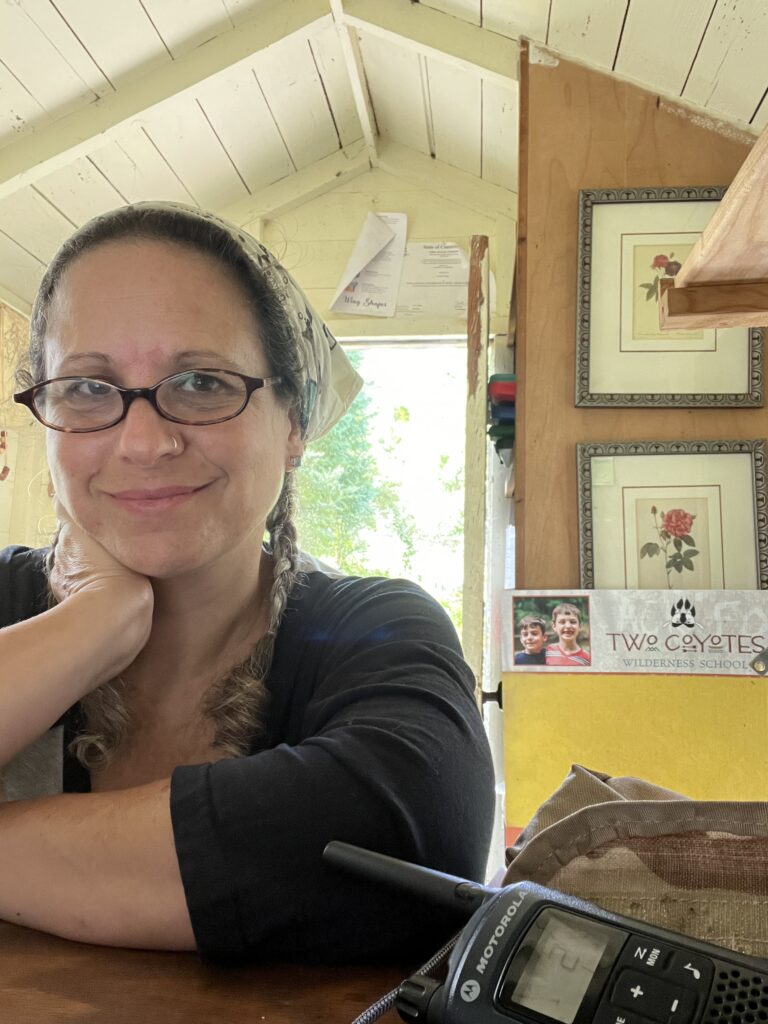 Steph's love of nature stemmed from countless hours spent in the woods as a child growing up in CT and her deep connection to the wilderness as a young adult living in North Carolina, South Carolina and the high desert of southern Utah. She is mom to three self-directed learners who thrive in the homeschool community and in Two Coyotes programs. Steph is a certified Level II Archery instructor and teaches archery and art in the homeschool community.
Steph holds a studio art degree from the University of South Carolina with a focus in art education and photography. She shares her wonderment and love of nature with the children in the Two Coyotes family as a Camp Director in the summer and an instructor during the school year. She also works behind the scenes year-round as Two Coyotes' Program Director to keep the programs staffed and running smoothly.
Justin Pegnataro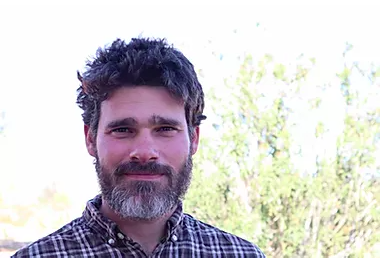 Justin is dedicated to helping people live vibrant healthy lives filled with connection and purpose. He is an eco-therapist, nature mentor and writer. He also is a former executive director of and mentor at Two Coyotes. Over the course of his career, Justin has mentored thousands of adults and youth in discovering who they are, claiming their personal power and in finding a deep sense of belonging within their own communities and the more-than-human world. If you are interested in Justin's adult or teen counseling services visit www.JustinWildHeart.com to learn more.
Nur Refai
Nur Refai is an amateur musician and writer out of Naugatuck, Connecticut. He loves teaching, learning, and game playing, especially when in the company of trees or cats.
Tyler Reid

Von Oy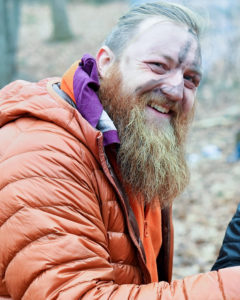 Tyler is an avid outdoorsman, with many self-taught skills. He can often be found hiking around Connecticut's myriad trails, enjoying the forests with a meditation or learning a new skill. He is adept at knots, fire making, and using a sword (boffer or otherwise), and loves nothing more than learning in the outdoors. He is a jack of all and master of some, and appreciates nature for its freedom, peace, and plethora of exciting adventures. In addition to his affinity for the wild, he is an instructor of Capoeira at the rank of Formado, and enjoys participating in the Armored Combat League at a world champion level. He is fluent in American Sign Language, and he holds his Bachelor of Science in Psychology, as well as a First Aid Certification. Wilderness mentoring is truly his passion and where he finds fulfillment in life, teaching and sharing his knowledge with anyone willing to listen.
Tatiana Rivera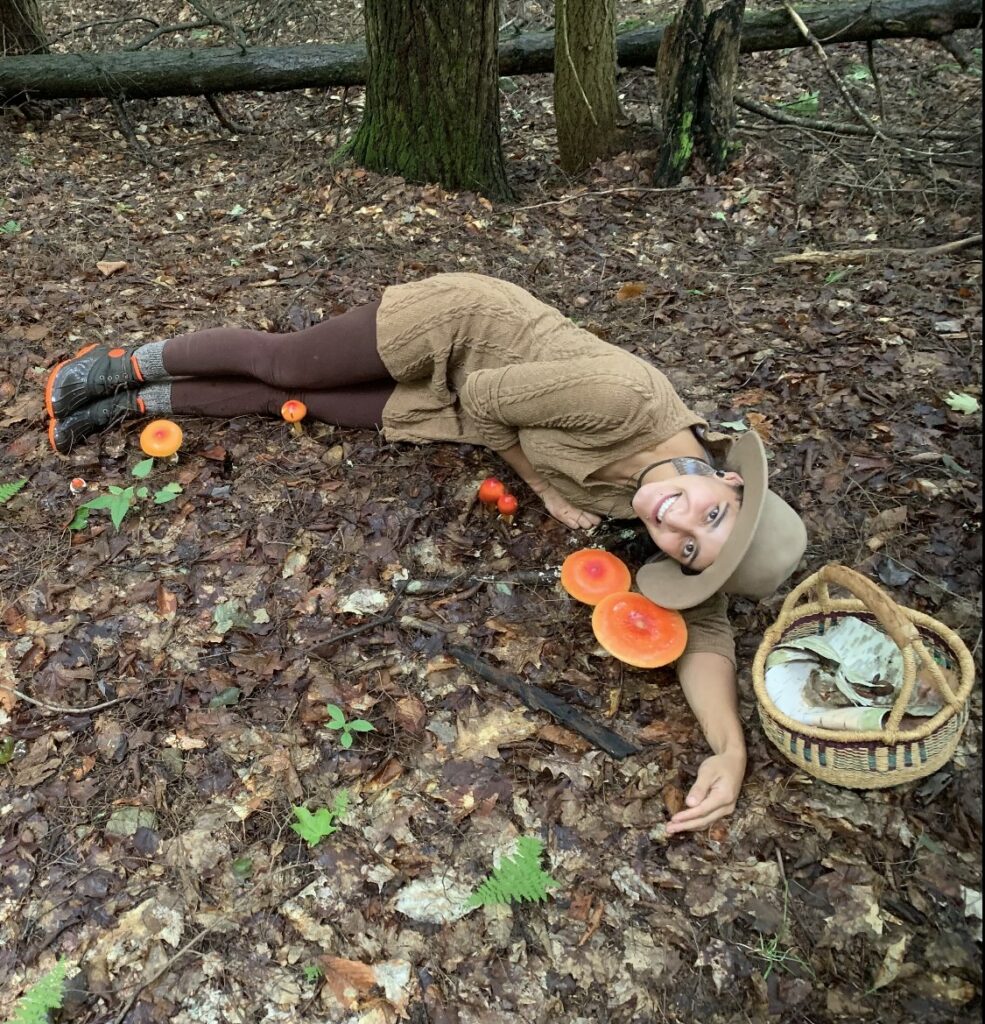 Tatiana has a passion for the relatively tiny beings and loves all that encompasses them. Fascinated by life cycles and connections she studied Forest Health at SUNY College of Environmental Science and Forestry. Besides being an outdoor enthusiast, Tatiana enjoys learning and making crafts.
Karianna Rosenberg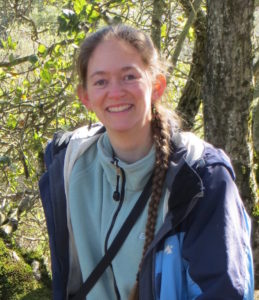 Karianna is a lifelong student of nature, a dance anthropologist, an artist, a bilingual storyteller, an outdoor educator, a cultural creative, and transformational workshop facilitator. Her deep connection and love of nature and passion to help others discover their own connection with the earth, themselves, and others, began with her growing up on a small family farm surrounded by a Connecticut state forest.
Karianna holds a BA in Cultural Anthropology, with a Minor in Spanish, focusing on Dance Anthropology and Dance History. She earned an MA in Teaching Spanish and English as second languages, with a Bilingual Multicultural Endorsement from the School for International Training. She is also certified in Wilderness First Aid.
In her spare time, Karianna enjoys social dancing, especially swing and Argentine tango, writing poetry, playing fiddle/violin, spending time with family and friends and being out in nature.
Ariana Shapiro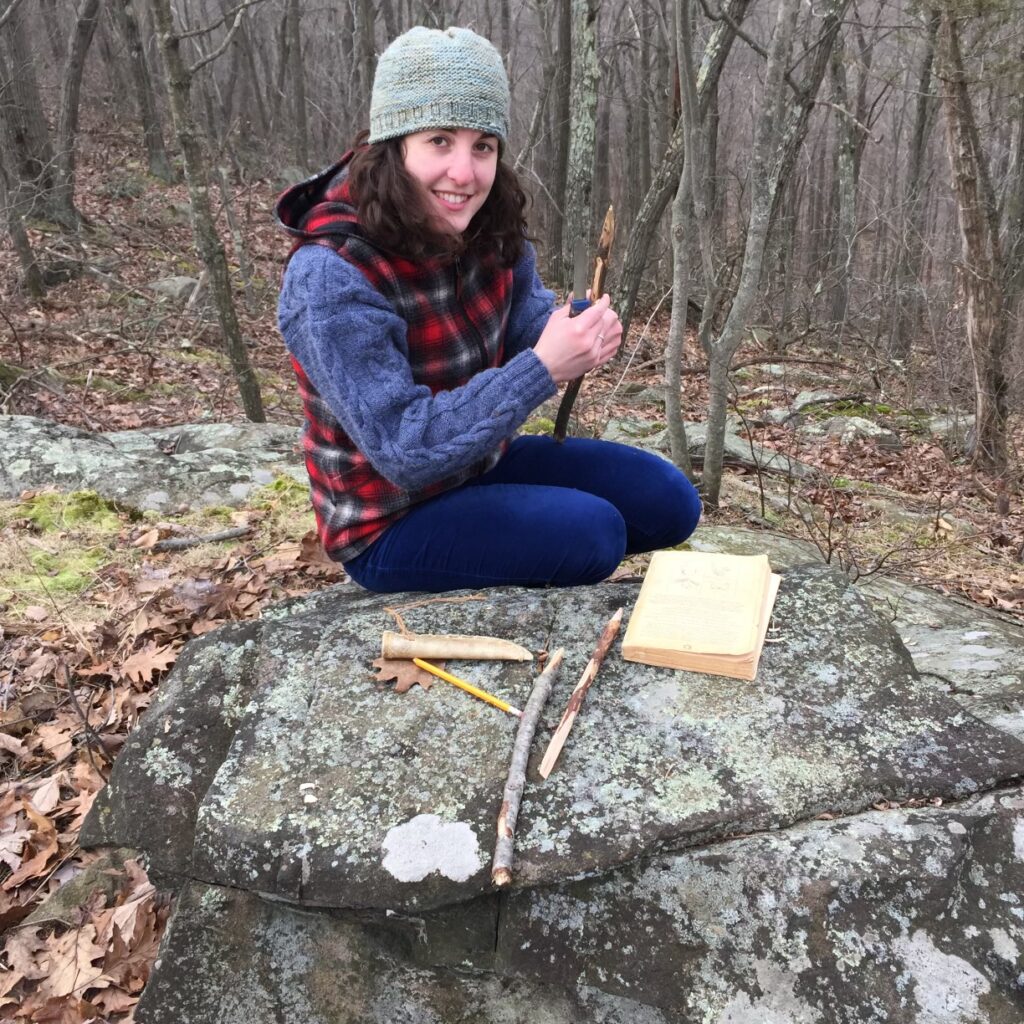 Ariana grew up in Ithaca, NY, climbing trees and playing in waterfalls. As a child, she attended wilderness programs that sparked her love for survival skills, naturalist knowledge, and nature connection. She moved to Connecticut in 2012 to study a BA in Ethnicity, Race, and Migration. Since then, she has continued to learn about the natural world by spending time in the woods, taking adult classes, and mentoring kids at different schools in the Northeast. She especially loves crafts like cordage making and hide tanning, and skills like tracking, hunting, and foraging for wild edibles.
Storm Songe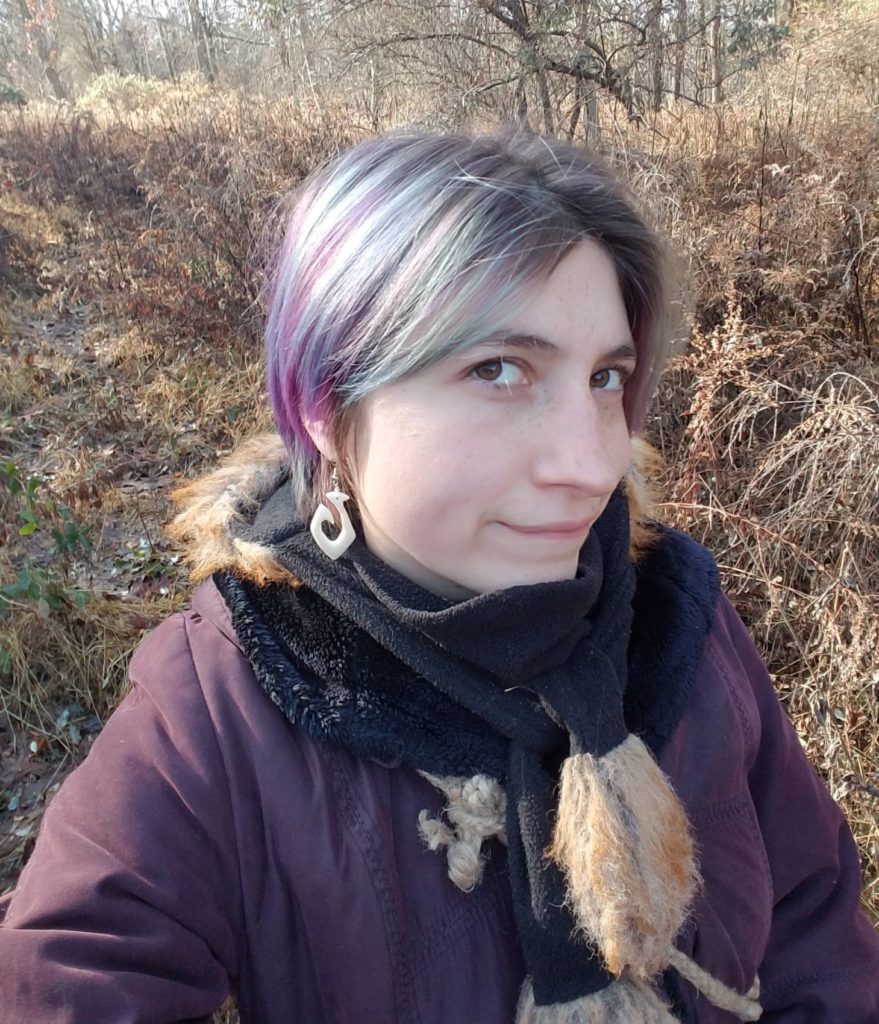 Storm graduated from UCONN with a BS in Ecology and Evolutionary Biology, and an MS in Conservation Biology and Biodiversity. They joined Two Coyotes as a mentor in 2012 and have been involved ever since! In spring, fall, and winter, you will see them teaching the Coyote Village School Year Program in Newtown, Killingworth, and Granby. Over the summer, you will usually find them as Camp Director at the Granby site.
When not with Two Coyotes, you can find Storm wandering the wild lands of Connecticut, in search of birds, gathering nuts and berries to make dye, crocheting tiny animals, painting with ink, and collecting crystals & minerals.
Storm has a profound love for wildlife and for teaching. Their driving force in life is to foster love and connection with the environment so the wild lands we so deeply enjoy will be preserved for many generations to come.
Tom Varga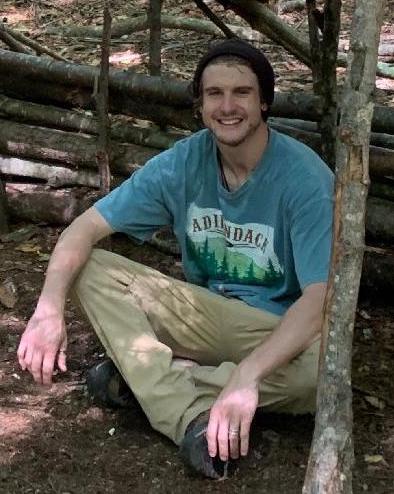 Tom built his love of nature by observing and recognizing nature signs around him. Growing up in the suburbs of Connecticut, he often visited the Adirondacks in New York, where he grew a passion for nature and an appreciation for natural cycles. Tom completed an Associate's degree from Naugatuck Valley Community College in Environmental Science. Tom also attended Alderleaf Wilderness College in Washington State where he received certifications in Permaculture and First Aid, along with extensive studies in the subjects of Edible and Medicinal Plants, Wildlife Tracking, Outdoor Leadership, and Sustainable Living Skills.
In his free time Tom enjoys being outside, listening to birds, identifying new species, gardening or just walking through the woods. Tom seeks to encourage others to observe and learn what's happening around them by maintaining an excitement for Nature connection and learning.
Erika Vass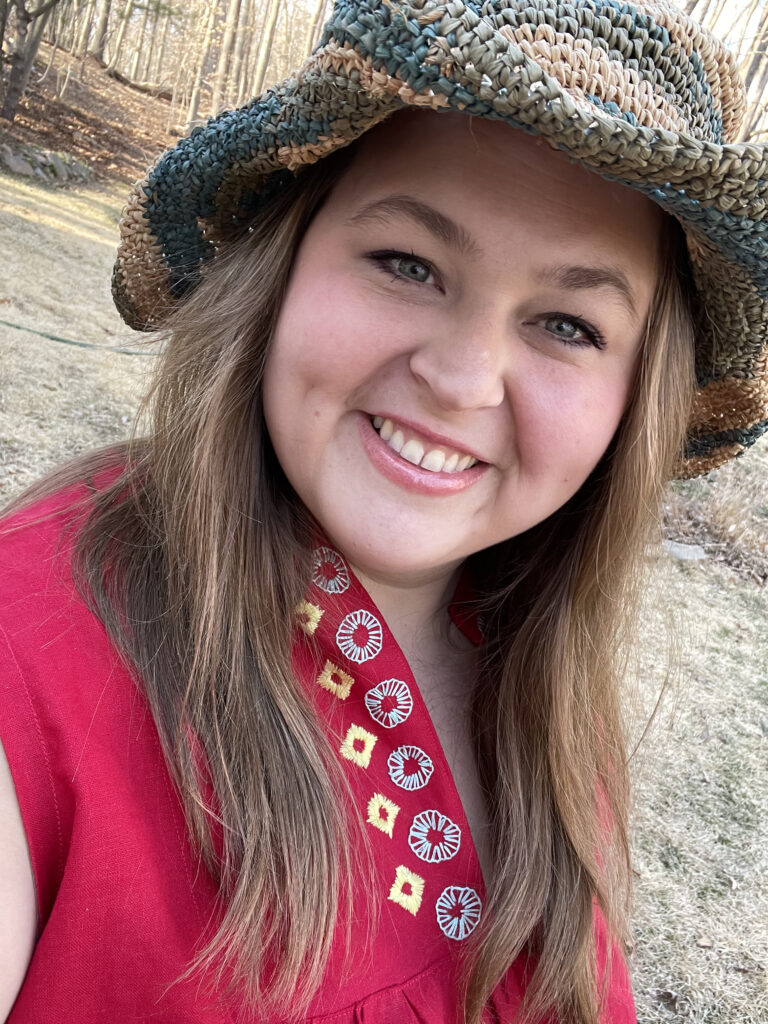 Erika enjoyed catching butterflies, singing all day and sinking her feet into the mud of her backyard stream as a child. Later, she studied art, education and Waldorf education. She co-founded a Waldorf early childhood center and taught mixed-age kindergarten. With her own three children, Erika discovered fulfillment on the homeschooling path. Sometimes that enthusiasm has led her to teach artistic nature-based classes to other homeschooled children. She enjoys gardening, baking, cooking, caring for her many pets and farm animals, celebrating the seasons, making music and just about every other possible type of art and craft! Really, there are too many art forms to list – but laughing might be her favorite of all.
Vince Vojack-Weeks
Vince loves to be outdoors and to have fun. He enjoys all things outside, whether on a trail, bike or hammock, swimming in a lake or stream, or on top of a tree or mountain. Lately, it's mostly among the wood chips of playgrounds, where he spends lots of time with his two young daughters.
Summer Staff
Each year, our team grows to include staff returning from school and other far flung adventures, teen alumni who have completed our Mentor-in-Training program, and other new folks who bring their gifts and love for nature to our summer campers.
Jonah Birtwell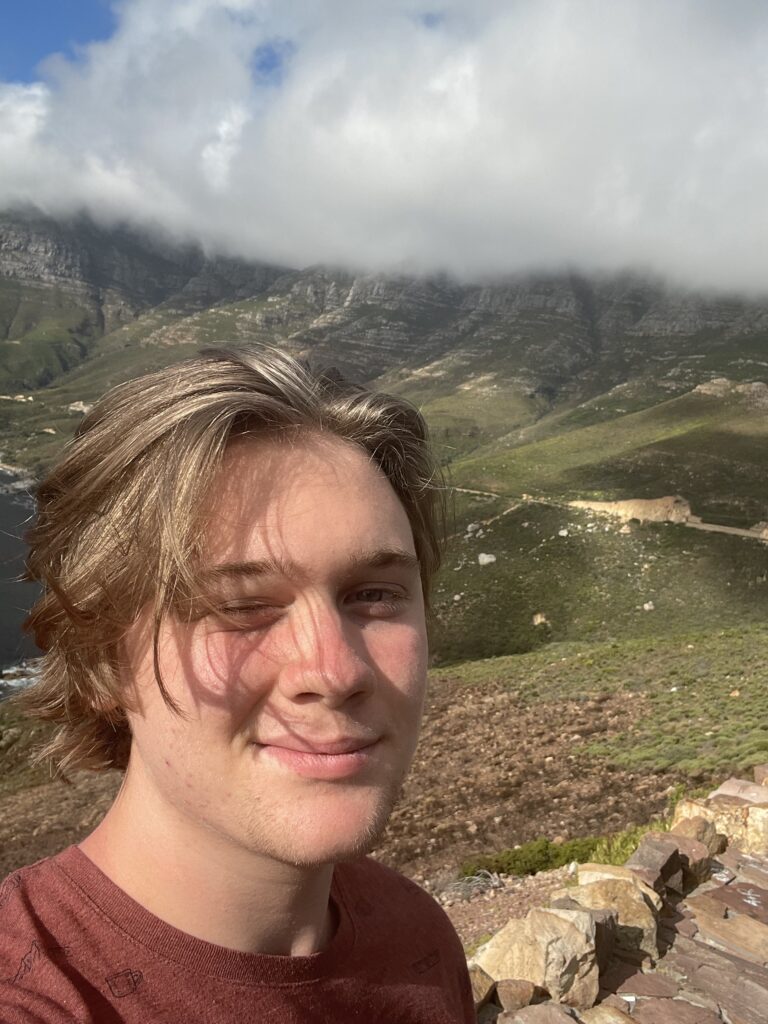 Jonah is a former student of the Two Coyotes program, starting it in the fall of 2016 and graduating in the spring of 2022. He has developed many skills over the years including friction fire building, wood carving, plant identification, tracking, knot tying, wood working, and many others. He has an intense love for learning about nature and life. In his free time he loves to swim in rivers, go rock climbing, metalwork jewelry, write music, go mountain biking, or work on his survivalist skills. Growing up in the Two Coyotes program Jonah found a love for the community, himself, learning, and being in nature.
Cameron Case
From the age of 8, Cameron immersed himself in everything Two Coyotes. Cameron spent his summers learning wilderness skills and hiking up Moss Mountain as a Two Coyotes camper, and traveled to the Kingdom of Wildwood as a Wildwood Ranger in the fall, winter and spring. Cameron also had the honor to be invited to the Boy Sacred Fire Initiation, an intensive 3 year nature based rite of passage program for teen boys. In 2019, Cameron graduated from the Two Coyotes Mentor-in-Training program and began as staff the following summer. When not at Two Coyotes, Cameron loves playing baseball and scaling mountains.
Sean Devine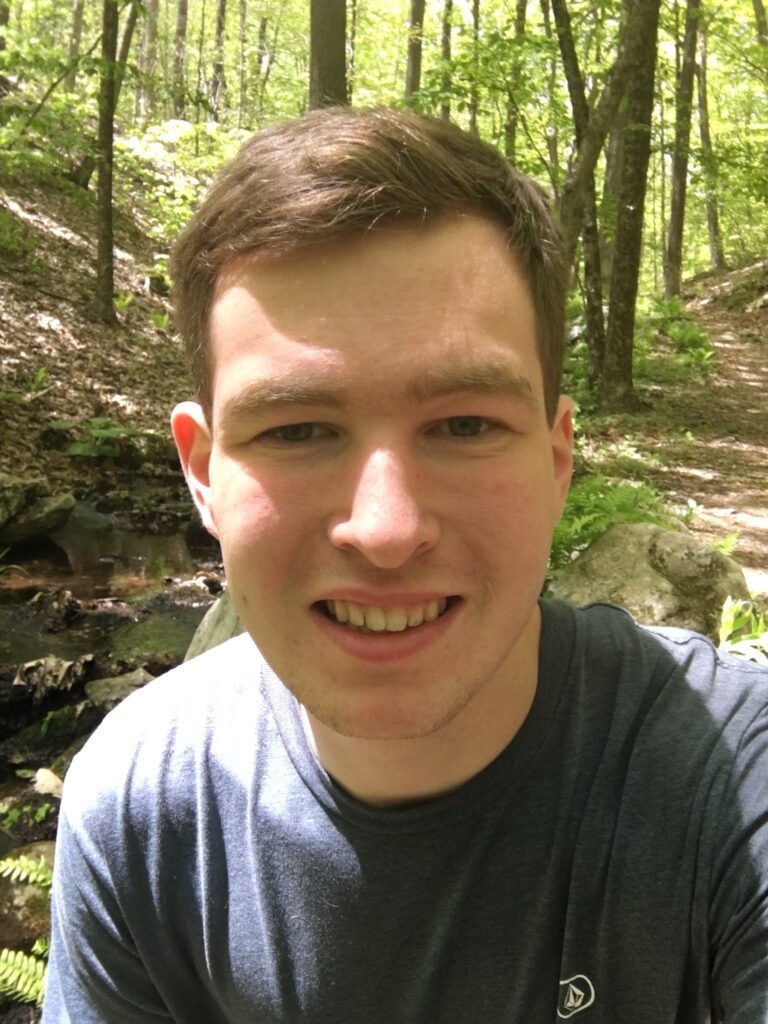 Sean has a passion for exploring the outdoors, and helping others see their place in it. He is studying wildlife biology at the University of Vermont, and his hometown is Easton, CT. He spends much of his free time hiking, both on our many local trails and also throughout New England. On these hikes he enjoys any opportunity to spot our amazing wildlife here in Connecticut, from songbirds to bears. Always seeking to learn new things, Sean has many hobbies, including raising chickens in his backyard.
Gavin Duhamel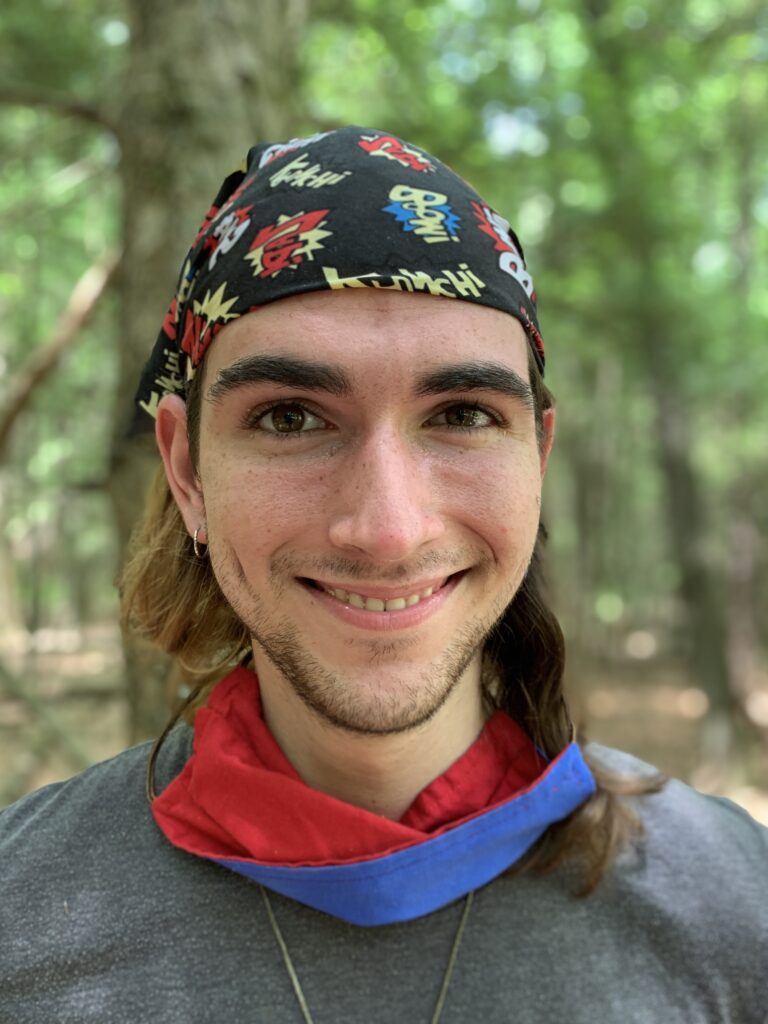 Gavin is a strong believer in all things play oriented, whether that be a two hour game of chess, or chasing frogs into a mud puddle face first. He has spent the past few years studying and teaching parkour. He always loves a chance to pick up a cool new skill, like how to shoot a bow, to shogi, or to juggle, and is happy to nerd out about whatever new thing he, or whoever he's talking to, is learning. He is currently in college to to become a talk therapist, and is fascinated by the inner workings of the human mind.
Doubenz Fabius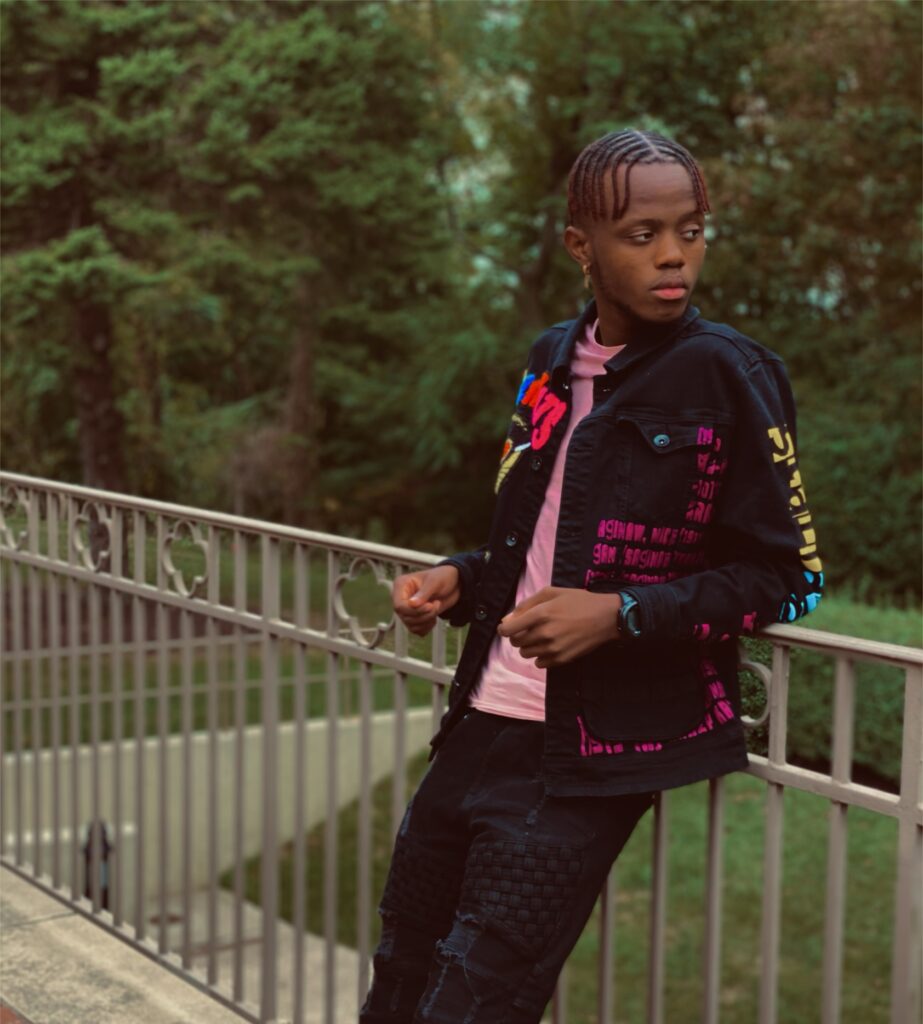 Doubenz Fabius is one of the newest members of Two Coyotes' staff. He is hardworking and enthusiastic. He has a strong passion for mentoring and educating kids about nature.
Jia-Lin Koh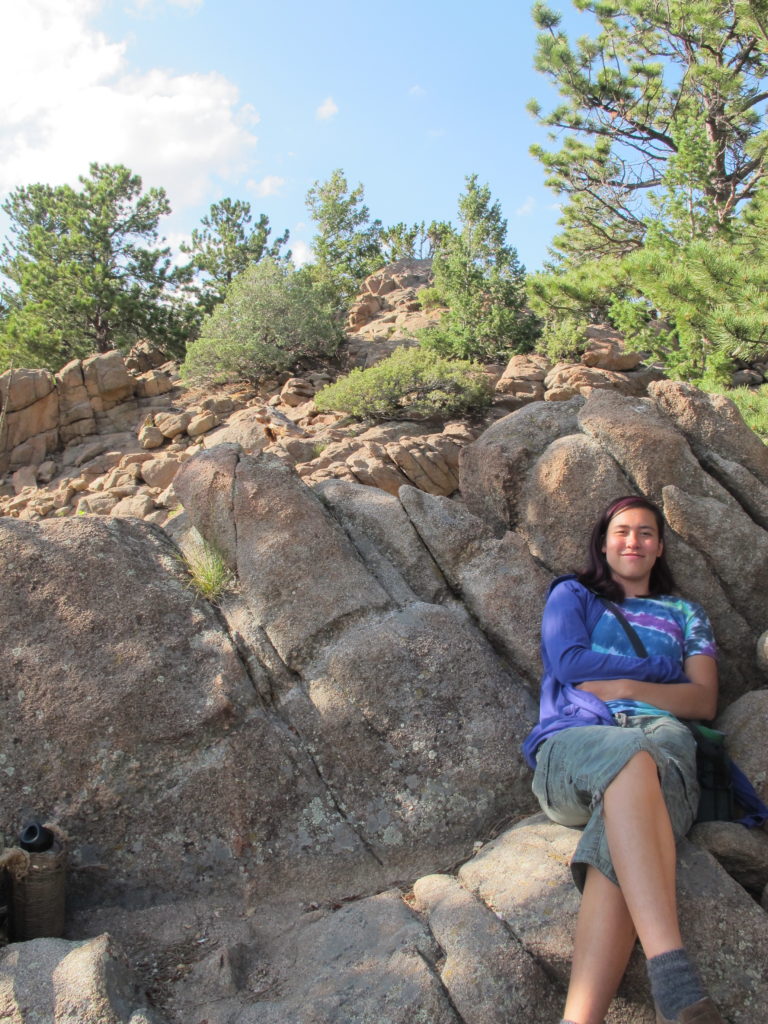 Jia-Lin is an alumna of Two Coyotes who approaches life with enthusiasm and a willingness to learn. She loves nature and teaches in order to bring people closer to nature and each other. She comes from a diverse background and aims to integrate her experiences into her mentoring and expression of herself. Loki is CPR and First Aid certified and a nursing student at Plymouth State University.
Olivia Laurie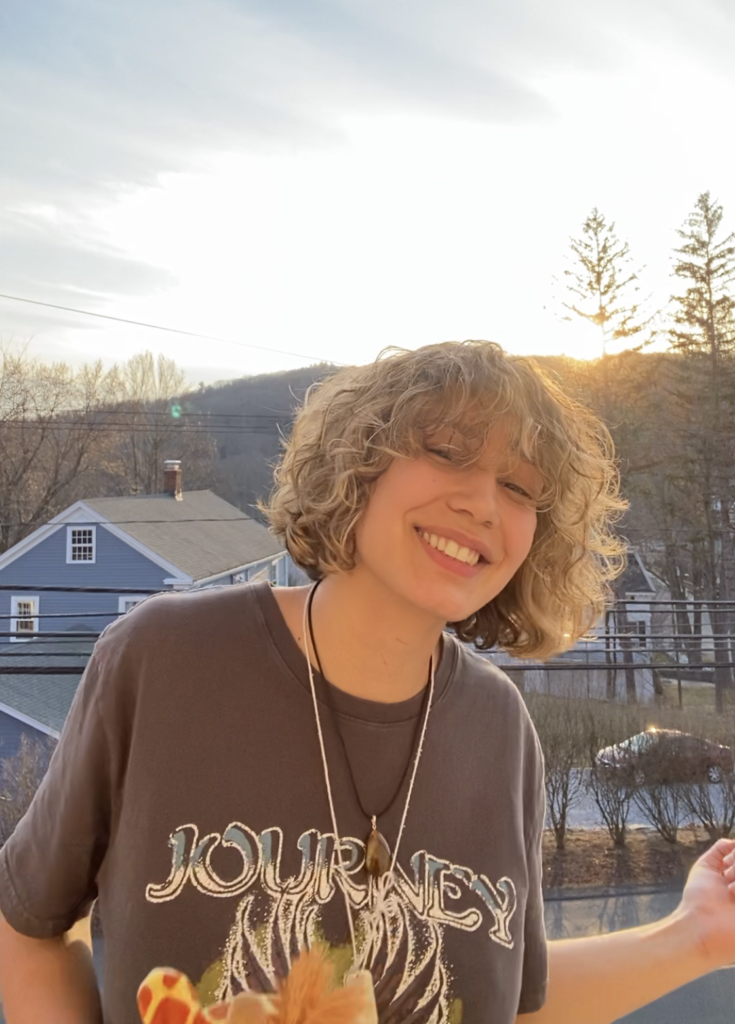 Olivia is a lifetime participant at Two Coyotes Wilderness School. Having been involved with the program since she was 2 years of age, she holds an excellent understanding and appreciation of the magic in nature. While she began as one of the youngest students in the homeschooler program, she is now an experienced mentor who connects with nature through various programs across New England. As an avid collector of crystals, feathers, shells and bones, she has a love for the smaller things in nature and is thrilled by any opportunity to share her enthusiasm with others. Specializing in fire making, carving, camouflage, and tracking, she truly is a "Jack of all trades." She is also a talented artist who can often be found sitting in a tree while sketching a family of robins or carving a ladybug out of wood.
Astrid Niles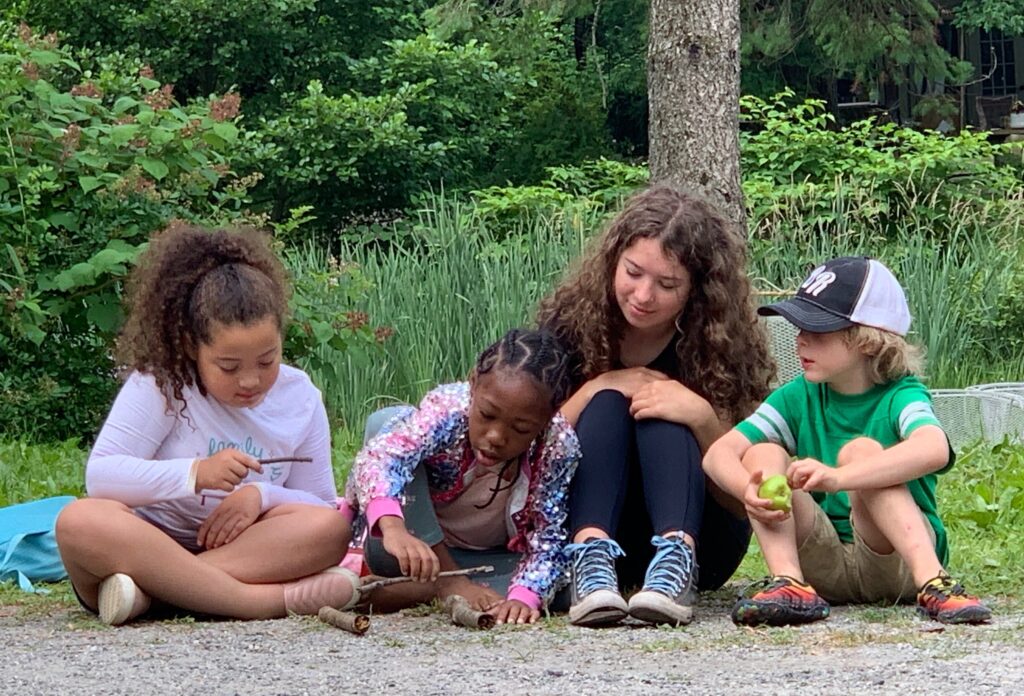 Astrid has been a student with Two Coyotes for 10 years, and after participating in the MIT program with Two Coyotes, she joined the staff team in 2021. Astrid enjoys sharing her love of wildlife with everyone, and playing Two Coyotes games. Outside of Two Coyotes, she enjoys going on adventures, kayaking, spending time with animals, hiking, doing art, and climbing trees.