Join our village and step into wild adventures in nature!
Our weekly, school day programs are our most powerful programs, thanks to our families' commitment to long-term nature mentoring for their children. With age groups from 5-18, kids don't just take one of our programs – they grow up in them. Led by our skilled mentors through challenges and reflection in nature, they develop a deep understanding of who they are, what they value, and what their gifts are. Our students come from homeschool, public school, and private school backgrounds, and our program is designed to complement your child's educational experience no matter what the setting may be. Contact maggie@twocoyotes.org if you need support as you navigate getting approval from your child's school to participate in this program.
Coyote Village is a nature-based mentoring program that helps raise healthy and connected children in a community setting. We provide students with a dynamic environment to push their own edges, engage their natural curiosity, and cultivate an intrinsic love of learning that they carry with them for the rest of their lives.
Our age groups include Wild Seeds (5-7), Black Foxes (8-12), and Fire Keepers (13-18). Check out our Coyote Pups caregiver & child programs (age 0-5) and get your little one ready for Wild Seeds!
Registration for the 23/24 School Year is now open!
2023/24 School Year Highlights
* Overnights are offered in the fall for our seasonal classes and in the spring for our full-year programs. Fire Keepers & Black Foxes camp with their mentors for the night in tarp or debris shelters that they've set up themselves. Wild Seeds & Pups camp together with their families in a tent village. You'll notice there may be a day off mid-session to accommodate mentors who are working an overnight at a different location the night before. Tuition for drop-off programs (Wild Seeds, Black Foxes and Fire Keepers) includes the cost of overnights. Pups have the option to add the overnight, though if you have a Wild Seed sibling you don't need to because the cost for your family is already built into theirs.
* There is one guaranteed make up day per season built in for weather cancellations.
* Dates for our community events & potlucks are shared below as well as in CampBrain when you register. We'll look for parent volunteers to help us coordinate.
* Sign up now for fall, winter & spring! Save 5% when you register for 2 seasons upfront; save 10% when you register for all 3. Full-year programs have a 10% discount built in to the price.
.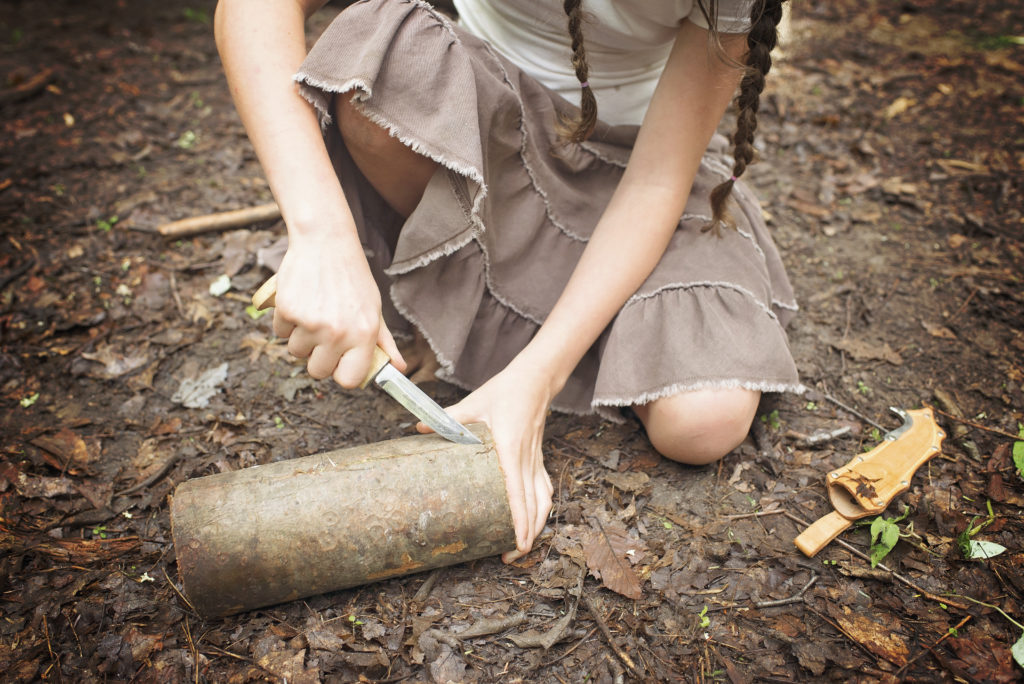 Once a week, students spend a full day immersed in nature. Each day starts with nature games and a gratitude circle. Mornings focus on learning survival and naturalist skills, which deepen over the arc of the year as students observe, ask questions, and apply their skills to hands-on wilderness projects. Activities may include:

– Starting a fire without matches
– Identifying wild edibles and medicinal plants and using them to make salves or cook a feast
– Building shelters and forts and learning about the history of primitive shelters
– Sitting quietly in reflection and observing the environment; journaling
– Learning animals' patterns by sneaking invisibly through the forest; learning bird language
– Making handmade tools and crafts from natural materials

After lunch, our afternoons are filled with storytelling, playing in the river, and games that apply the skills learned in the morning. Woven throughout are lessons in peacemaking and nonviolent communication, challenge activities, and teamwork. We close each day in circle sharing stories of the day and a group song that ties together elements of their day.

Over the course of our program, students develop qualities such as leadership, team building, emotional intelligence, resilience, confidence, expression, service, integrity and other foundational aspects of good character.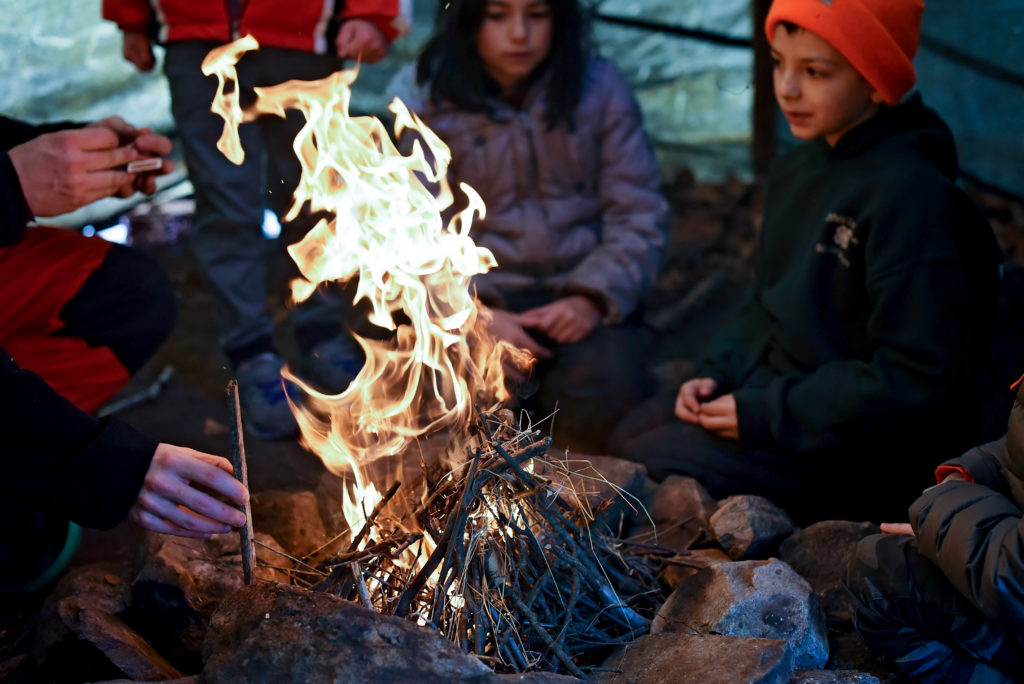 Students have the choice of enrolling by season (fall – 10 weeks, winter – 8 weeks, spring – 10 weeks) or for the entire school year (33 weeks). All programs occur outside, except in hazardous conditions. Our typical student to mentor ratio is 6:1.
Programs include an overnight in the fall or spring, as well as other community events & celebrations throughout the year. See below for a list of important dates to note. You can also find the full schedule on CampBrain when you register. Enrolled families will be notified via email of any changes to the schedule.
If a program is full, please join the waitlist as we open additional classes when possible. Our Full-Year Programs may have spots available for mid-year enrollment. Join the waitlist for those classes and you'll hear from alicia@twocoyotes.org within 3 business days with information about next steps in the enrollment process.
Key Dates for 23/24 School Year
Monday classes (Granby)

FALL (Sept 11 – Nov 13): Parent meet & greet Sept 11, Overnight Oct 9, Ancestor Feast & Winter Gear Swap Oct 30, Honoring Ceremony Nov 13, Make up class Nov 20

SPRING (March 18 – May 20): Parent meet & greet March 18, Forest Fair May 6, Honoring Ceremony May 20, Make up class June 3

Tuesday classes (Killingworth)

FALL (Sept 12 – Nov 21): Parent meet & greet Sept 12, Overnight Oct 3, No class Oct 10, Ancestor Feast & Gear Swap Nov 7, Honoring Ceremony Nov 21, Make up class Nov 28
WINTER (Jan 2 – Feb 20): Make up class Feb 27
SPRING (Mar 19 – May 21): Parent meet & greet March 19, Forest Fair Apr 30, Honoring Ceremony May 21, Make up class May 28

Wednesday classes (Granby)

FULL-YEAR PROGRAM (Sept 13 – May 22): Parent meet & greet Sept 13, Jan 3, Mar 20; No class Oct 4, Nov 22; Ancestor Feast & Gear Swap Nov 15; Make up days Dec 27, Mar 13, May 29 (no class if not used as a make up day); Overnight Apr 17; Forest Fair May 8; Honoring Ceremony May 22

Thursday classes (Newtown)

FALL (Sept 14 – Nov 16): Parent meet & greet Sept 14, Overnight Oct 19, Ancestor Feast & Gear Swap Nov 2; Make up class Nov 30.
WINTER (Jan 4 – Feb 22): Make up class Feb 29
SPRING (Mar 14 – May 30): Parent meet & greet Mar 14, No class Apr 18 or May 23, Forest Fair May 2, Honoring Ceremony May 30, Make up class June 6

Friday classes (Newtown)

FULL-YEAR PROGRAM (Sept 15 – May 31): Parent meet & greet Sept 15, Jan 5, Mar 22; No class Oct 20, Nov 24, May 24; Ancestor Feast & Gear Swap Nov 17; Make up classes Dec 29, Mar 15, June 7 (no class if not used as a make up day); Overnight Apr 26; Forest Fair May 17; Honoring Ceremony May 31
Registration for the 23/24 School Year is now open!
| Name | Ages | Location | Time | Date(s) | Price |
| --- | --- | --- | --- | --- | --- |
| 23/24 School Year | 5-12 | Granby | 9-3 | Wednesdays: Sept 13 - May 22 | $2350 |
| 23/24 School Year | 5-12 | Newtown | 9-3 | Fridays: Sept 15 - May 31 | $2350 |
| | | | | | |
| Fall 2023 | 5-18 | Granby | 9-3 | Mondays Sept 11 - Nov 13 | $790 |
| Fall 2023 | 5-18 | Killingworth | 9-3 | Tuesdays Sept 12 - Nov 21 | $790 |
| Fall 2023 | 5-18 | Newtown | 9-3 | Thursdays Sept 14 - Nov 16 | $790 |
| Winter 2024 | 5-18 | Killingworth | 10-3 | Tuesdays Jan 2 - Feb 20 | $575 |
| Winter 2024 | 5-18 | Newtown | 10-3 | Thursdays Jan 4 - Feb 22 | $575 |
| Spring 2024 | 5-18 | Granby | 9-3 | Mondays Mar 18 - May 20 | $730 |
| Spring 2024 | 5-18 | Killingworth | 9-3 | Tuesdays Mar 19 - May 21 | $730 |
| Spring 2024 | 5-18 | Newtown | 9-3 | Thursdays Mar 14 - May 30 | $730 |