Sailors used the north star to navigate home. It guided their way across unknown oceans. Our Directors help us to stay on track and to find the way to our vision of a healthier more connected future. They ensure the longevity of the school so it will be able to serve our community for generations to come.
Interested in joining the board? Learn more here.
---
Herman Davenport
Board Member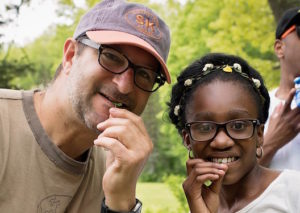 Marc Michaelson
President
Marc is passionate about the nature mentoring work of Two Coyotes – and is both a parent and student of the program. Marc lived and worked in Africa for 7 years, and has spent the past 20 years as a teacher, administrator, and curriculum design leader at a charter school network. "For my kids (and our family), time at Two Coyotes has been transformative –  a chance to develop our humanity and deepen our connection to the vast web of life in our backyard.  As a Board Member, I'm excited to help Two Coyotes grow and flourish and expand its programs throughout our community." 
Chastity Rodriguez, MEd LMFT
Board Member
My education and experience combines to create a skilled and compassionate listener and facilitator of space where people feel safe to examine their current unconscious beliefs and practices and to curate new conscious connections within themselves and with others.
In addition to my work as an upper school counselor at a predominantly white independent day school, I am a trainer/facilitator/coach specializing in identity development, systems analysis, cultural humility, anti-racism, and embodiment practices. I joined the board because I want to work with a group of people who are committed to making the world a better place and Two Coyotes Wilderness School does just that.
.
Staff Representatives
There are two staff seats on the board to be filled by the Executive Director and a rotating staff representative.