Sailors used the north star to navigate home. It guided their way across unknown oceans. Our Directors help us to stay on track and to find the way to our vision of a healthier more connected future. They ensure the longevity of the school so it will be able to serve our community for generations to come.
---
Tom Case
President
Growing up in a small New England town in NH, Tom was given the gift of a childhood spent exploring the outdoors. From back yard forts to wandering old forgotten forest trails, Tom made a deep and lasting connection to the natural world. Often muted by higher education, career, and the demands of 20/21st century American life, Tom's passion for the natural world was rekindled when he sought to give the same gift of nature to his two sons. Looking for a community that embraced the "wild within" and "deep nature connection" Tom and his boys soon gravitated to Two Coyotes. Seeing the transformational impact Two Coyotes programming had on his family, Tom joined the Board of Directors in 2015 to lend his voice to the growing chorus of those who believe, as Thoreau did, that "In Wildness is the preservation of the world."
Tom lives in Wilton, CT with his wife and two sons, has degrees in Sociology and Non-Violent Conflict and Change and works professionally as a Cyber Security Expert.
Bill Donaldson
Treasurer
Bill enthusiastically joined the board of Two Coyotes in November of 2015 and currently serves as treasurer. His son's passion and enthusiasm for summer camps and other Two Coyotes programs reawakened his own passion for nature and the outdoors. "I have seen first-hand the impact that direct contact with nature has with both children and adults and it is an honor and privilege to help grow the organization and bring the amazing experience of nature connection to more people." In his "day job" Bill is a financial advisor in private practice in Westport, CT. His favorite thing to do is to spend time in Vermont with his family.
Kate Foran
Secretary
Kate fell in love with Two Coyotes when she did the pups program with her older daughter a few years ago. She wanted to be a part of the board because she believes Rilke: "If we surrendered to the earth's intelligence we could rise up rooted, like trees." She has a background in exploring the spiritual roots of social change work and a commitment to racial justice. Kate currently teaches writing classes online with Brave Writer, but her funky work history includes freelance writing projects, living in intentional community on a farm, gardening, museum education, nonprofit communications, and historical interpretation.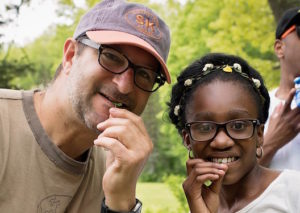 Marc Michaelson
Board Member