People have been living, working, and playing in cold weather for thousands of years. What started as animal skins has evolved into technical clothing and fabrics, but no matter how you approach it, everyone can be comfortable outside for hours regardless of the weather.
At Two Coyotes, we want our students to be safe & happy when learning outside all day. The key is to have multiple layers of clothing to trap the warm air that our own body heat produces.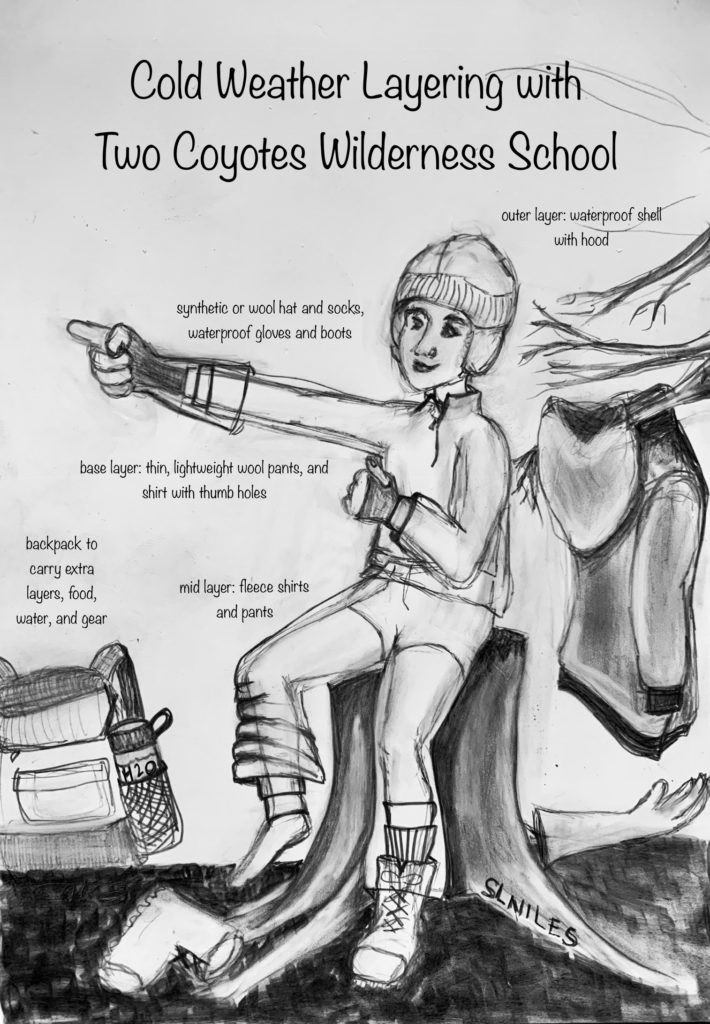 Base layer– This is the first layer that touches your skin. The thin base layer manages moisture from sweat by wicking it away from your skin. Snug fitting, but stretchy so you can move. Look for merino wool, silk or synthetics. This layer should be comfortable next to your skin and should not be cotton, as this fabric will hold moisture rather than pulling it off your skin and away. Technical base layers often come in "lightweight," "midweight," or "heavyweight" to accommodate your activity level and the temperature.
*Don't forget to consider underwear as part of the base layer. If you get sweaty and are wearing cotton undies or bra, they will remain damp all day and be rather uncomfortable. Consider investing in merino wool or other synthetic undergarments for wilderness days.
Mid layer– Insulation. Depending on the temperature, you might need one or more mid-layers. This is another layer of wool or synthetic fabric, though slightly thicker than your base layer. Make sure they all fit together by trying them on at home before heading outside. It should be fitted, but not tight, so you still have good range of motion. If these layers are not cotton, they will continue to pull moisture away from your body and out. Pack as many as you might need to stay warm. These are the layers you will add on or take off throughout the day as the weather and your activity level fluctuates.
Outer layer– Think of this as the shell to keep rain and wind out, not just for keeping you warm. In the winter or on wet days, the shell should be waterproof. Moisture from your body may collect on the inside of the shell, but this is letting you know that your wicking system is working. A shell that will fit over multiple layers is key. Having a little air space between your mid-layers and shell is perfectly fine and will help with temperature regulation. A shell with armpit vents is great as it will help your body regulate temperature; zipping or unzipping the front of this jacket layer will assist in that too. Bring waterproof pants for wet days or for playing in the snow. Jeans (or any other cotton material) are never appropriate outer layers.
Extremities
Head- A soft, warm wool or synthetic hat is key to keeping your head warm and dry. Moisture will wick away from your head and evaporate, keeping you warmer. Something to cover your ears is important, whether a hat, earmuffs or headband. Have extras in case these get wet from rain or snow.
Feet- Socks. The temperature of your feet can vary from chilled to sweaty in a matter of minutes. The key to keeping your feet warm and dry, not hot, is decent socks. Invest in socks made for skiing or hiking and be sure they contain no cotton. Get socks that are long enough to be pulled up above the height of your snow boots, which will help with wicking. Just like the rest of your body, a thin pair of wicking socks made from synthetic polypropylene or silk, with a warmer pair on top is helpful as the layer in between will not only allow any moisture to be pulled away from your feet, but also trap warm air generated by your body.
Shoes- Waterproof boots are a must in the winter. Sneakers or other low top shoes just won't cut it in the snow. Look for winter boots that say they are waterproof, not just water resistant. Test them out wearing a couple pairs of proper socks before you buy them. Boots with ample room in the toe box are best for warmth and comfort, and to ensure your toes can keep moving.
Hands- Pack at least two extra pairs of gloves or mittens. Waterproof gloves are best and can be worn all day if you get a good pair. I prefer a pair of thin non-waterproof gloves, like the stretchy ones, for hiking with a second fully waterproof pair for playing in the snow. Keep another pair of each in your bag, as even waterproof gloves may get sweaty and cold.
Hand and Foot Warmers- While these are not necessary, especially if you layer correctly, they can be a source of comfort if your fingers or toes get a chill. They are made from non-toxic materials and when directions are followed, will produce their own heat for up to six hours. These individually wrapped disposable items cost a dollar or two and can be bought in bulk.
Where to Buy
Before buying anything, ask around for hand-me-downs. Thrift stores and consignment shops are a great option for affordable gear. New items will be easiest to find at an outdoor outfitter vs. a general store. Some ideas are:
SmartWool, LLBean, Sierra Trading, Eastern Mountain Sports, REI, Patagonia, Army-Navy stores, Bass Pro Shop, Cabela's…
TCWS will gladly accept your previously loved but outgrown quality gear. We will make these available to those that need good gear and might otherwise not be able to attain it. Please bring clean gear to any of our programs or email Steph at programs@twocoyotes.org to arrange a drop off time.
Remember
Layers, Layers, Layers
Good Range of Motion
NO COTTON!
Waterproof Shoes
Extra Layers Just in Case