Leadership is about service to the community. While the magic of our mentoring happens in the forest, there is a team of servant leaders that work behind the screens to bring the magic of our programs to kids and our communities. Those leaders work with parents, our staff team, board members, and elders to co-create the mission of Two Coyotes.
---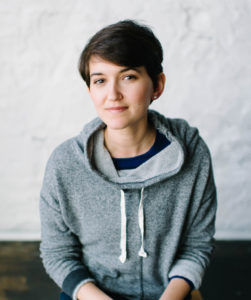 Maggie Gotterer
Executive Director
Maggie brings eight years of experience in nonprofit management to her role at Two Coyotes. Her previous work as a freelance nonprofit consultant focused on grant-writing, strategic planning, collaborative partnerships, and program development for community-based non profits and social enterprises in Bridgeport. She also serves on a number of boards, including the City of Bridgeport Food Policy Council, Green Village Initiative, Bridgeport Generation Now, and Bridgeport Innovation Place, which all help improve quality of life and access to opportunity for Bridgeport residents, where she lives. Her love for the outdoors was cultivated at an early age growing up in Redding, CT and spending summers on an island in Maine. She and her husband met as outdoor adventure guides at Georgetown University, and they are grateful to be raising their young family in the Two Coyotes community. Email: maggie@twocoyotes.org
Nancy Miano
Business Director
Nancy became part of the Two Coyotes community in 2010 when her two daughters (5 and 10) joined the program. Over the years, her children have participated in the homeschool, Wildwood Rangers and summer camp programs. Her oldest daughter moved up to an assistant instructor during last year's summer program.
In 2014 Nancy joined Two Coyotes Wilderness School as the bookkeeper and office manager. She currently handles all financial duties including scholarships, payment plans and registrations. Please feel free to contact her with any questions. Email: info@twocoyotes.org
Stephanie Niles
Program Director
Steph's love of nature stemmed from countless hours spent in the woods as a child growing up in CT and her deep connection to the wilderness as a young adult living in North Carolina, South Carolina and the high desert of southern Utah. She is now mom to three little environmentalists and teaches art in the home school community. Steph holds an art degree from the University of South Carolina where she focused in art education and photography. Stephanie works behind the scenes to help connect families to nature and keep the programs staffed and running smoothly. She also shares her wonderment and love of nature with the children in the Two Coyotes family as a camp director in the summer and an instructor during the school year. Email: programs@twocoyotes.org.