Autumn 2021 Registration Open Now!
An apprenticeship program for adults
Heartwood is the innermost part of a tree. It is the oldest wood, dense with accumulated material, which helps the younger parts of the tree stand tall.
Our standard weekend schedule will be Saturday 10am to 4pm, a two hour dinner break, then 6pm to 8pm for presentations or campfire activities. (The group may choose whether dinner is communal or independent.) Sundays will be from 9am to 5pm. Long weekends will follow a different schedule.
We will meet each month at various locations in CT, including Sticks & Stones Farm in Newtown, Holcomb Farm in Granby, and White Memorial Conservation Center, and Boyds Woods in Litchfield. Special, out-of-state trips are noted below.
Scholarships are available for all of our programs, please request one when you register. Sign up with a friend and get 10% off! Contact programs@twocoyotes.org to find out more.
2021/22 Dates*
1) September 25th and 26th: Sticks & Stones Farm
2) October 9-10: Overnight campout @ Holcomb Farm
3) November 6 & 7th: Sticks & Stones Farm
4) December 4 & 5: Holcomb Farm
5) January 14-16: 2 nights, 3 days Wildlife Tracking @ Quabbin Reservoir in MA (find your own accommodations)
6) February 12 & 13 Holcomb and Boyds Woods in Litchfield
7) March 26-27 Sticks & Stones Farm
8) April 23 & 24: Sticks & Stones Farm
9) May 21 & 22: White Memorial in Litchfield
10) June 9-12: 3 nights, 4 days culminating campout weekend in Rockingham, VT
*Details are subject to change due to factors beyond our control and your instructor will provide as much advance warning as possible.*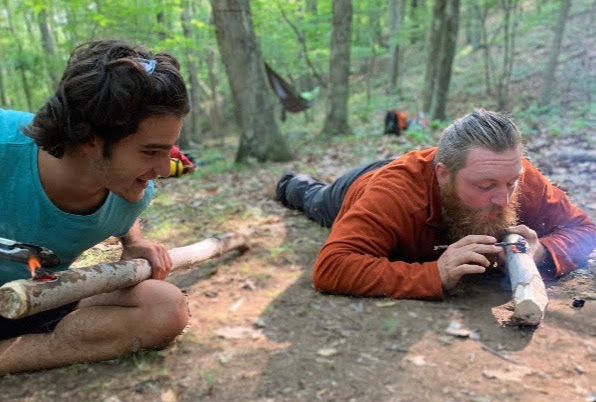 Topics Covered
– Friction fire
– Wildlife tracking
– Basic basket weaving
– Folded bark containers
– Cordage
– Safe use of woodcraft tools such as solid knife, saw, and hatchet
– Working with bone, stone and wood with both modern and ancient tools
– Creating a stone age tool kit
– Natural history of local flora and fauna
– Traditional uses of local plants and trees including for food, medicine and crafts
– Practicing Nature awareness: attention to the behaviors of birds and what that tells us about our surroundings, sensory exercises, practice of being fully present, and more
– Hazards in the landscape such as toxic plants, venomous animals, and environmental dangers, and how to deal with them
– Emergency survival skills
– How to sleep in the woods
– Exploration and navigation
– Historical and contemporary issues regarding indigenous people of the area
– A final 3 night campout to use what we have made and learned over the past 10 months
.
Standard v. Advanced Course Completion
Over the course of 10 months and 23 classes, you will accumulate more than 190 hours of in-class "dirt" & instructional time. To receive a Certificate of Completion, you must attend 20 of the 23 days, and participate in good faith in each day's activities and projects (sitting out for health reasons or on ethical grounds, such as processing animals, is perfectly acceptable).

For those who wish to get as much as possible out of the program, an Advanced Completion Certificate can be earned by completing "homework" between our monthly meetings. This will require a commitment of 2 – 5 hours per month and will include journaling, skills practice, sit spot time, and an ongoing project created by the student and agreed upon by the instructor.
.
| Name | Ages | Location | Time | Date(s) | Price |
| --- | --- | --- | --- | --- | --- |
| Heartwood Wilderness Skills | 18+ | Multiple | Varies | Sept 2021 - July 2022 | $2500 |