Wildwood Apprentices train to gain the knowledge and skill required to follow the trails of the creatures of the forest. Apprentices learn to use body and mind to work individually and as a team to help protect the creatures of the magical kingdom of Wildwood. Apprentices will train with padded boffer sword drills, obstacle courses and scouting challenges to build the mental and physical awareness to move in tandem with the wilderness and navigate what it means to be a hero.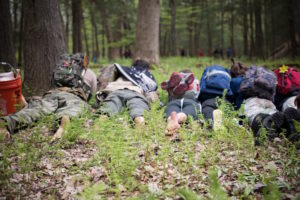 Skills your child will learn:
Patience, focus and impulse control

Good sportsmanship and teamwork

Awareness of their environment

Sense of accomplishment

Resilience and adaptability

Empathy and thoughtfulness through service and helpfulness

Courage to try new things and challenges

Patience and serenity

Engaging the body to be active and alive
2020 Dates
Join us for Wildwood Weekends from September – May in Newtown & Granby! The 2020 Camp schedule will be posted in February.