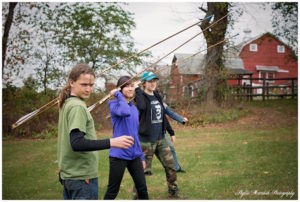 The title of Fire Keeper is one that is earned in the village. A Fire Keeper learns how to survive in the forest. They know what plants can nourish or heal them. They can kindle fire by rubbing sticks together and have learned how to sleep in a shelter made entirely from leaves and sticks. They are at home in the forest. Highly skilled, they are able to sneak undetected in nature, track the faintest of animal signs, and craft beautiful tools with their hands. Fire Keepers have been tested: sent on blindfold challenges, pushed to their edge, and returned having learned more about themselves. They are skilled, yet humble, and know that true joy comes from being of service to the community. A brother or sister to all, they mentor and support the younger students and serve the village. Being a Fire Keeper is to be a part of a community where everyone belongs and learns what it means to be part of a team.
Past projects include making friction fire kits, making knives, making atlatl darts, building giant shelters, going on epic stalking adventures, and overcoming challenges.
To be a Fire Keeper is to be on a path toward deep self knowledge, empowerment, and change. Being a Fire Keeper is not easy but it is epic.
Please register at least 2 weeks before the start of class. Scholarships are available. Overnight registration is now included in fall & spring tuition.
Fall Overnight dates:
– Granby: Monday, October 14th
– Newtown: Thursday, October 17th
– Killingworth: Tuesday, October 8th
2019-20 Dates
Register Now!
| Name | Ages | Location | Time | Date(s) | Price |
| --- | --- | --- | --- | --- | --- |
| Fall Fire Keeper | 13-16 | Granby | 9am-3pm | Mondays, September 9th - November 18th, 2019 | $725 |
| Winter Fire Keeper | 13-16 | Granby | 9am-3pm | Mondays, January 6th - February 24, 2020 | $550 |
| Spring Fire Keeper | 13-16 | Granby | 9am-3pm | Mondays, March 16th - May 18th, 2020 | $725 |
| Fall Fire Keeper | 12-15 | Killingworth | 9am-3pm | Tuesdays, September 17th - November 19th, 2019 | $652 |
| Fall Fire Keeper | 13-16 | Newtown | 9am-3pm | Thursdays, September 12th - November 14th, 2019 | $725 |
| Winter Fire Keeper | 13-16 | Newtown | 9am-3pm | Thursdays, January 9 - February 27, 2020 | $550 |
| Spring Fire Keeper | 13-16 | Newtown | 9am-3pm | Thursdays, March 19th - May 21st, 2020 | $725 |