Embark on an adventure of learning into the forest and into the heart.
Coyote Village is a wilderness-based mentoring program that helps raise healthy and connected children in a community setting. Students learn ancient wilderness survival techniques, build awareness, and hone their naturalist skills, while developing character and exploring their unique gifts.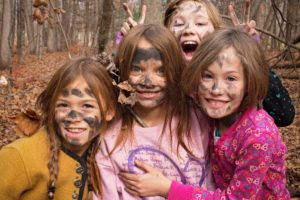 Past students have build and slept in survival shelters, made fire by rubbing sticks together, tracked coyotes, made stone tools and so many more fun projects. Over the course of our program, students develop qualities such as leadership, team building, emotional intelligence, resilience, confidence, expression, service, integrity and other foundational aspects of good character. Join our village and step into wild adventures in nature.
Homeschoolers of all ages enjoy Coyote Village!
Our village meets one day a week. We start as a group in Gratitude Circle, then venture off into smaller groups, sometimes joining groups throughout the day. Our groups are divided by age group:
Wild Seeds, ages 5-7
Black Foxes, ages 8-12
Please register at least 2 weeks before the start of class. Scholarships are available. Overnight registration is now included in Fall & Spring sessions.
2020 Dates
Granby dates to know: overnight: 4/27, trade blanket 5/11, snow makeup dates 5/25 and 6/1
Killingworth dates to know: overnight 5/5, trade blanket 5/19, snow makeup dates 6/2 and 6/9, no class on April 28
Newtown dates to know: overnight 4/16, trade blanket 4/30, snow makeup dates 5/21 and 5/28
Register Now!
| Name | Ages | Location | Time | Date(s) | Price |
| --- | --- | --- | --- | --- | --- |
| Winter Wild Seeds | 5-7 | Granby | 10am-3pm | Mondays, January 6th - February 24th, 2020 | $550 |
| Winter Black Foxes | 8-12 | Granby | 10am-3pm | Mondays, January 6th - February 24th, 2020 | $550 |
| Spring Wild Seeds | 5-7 | Granby | 9am-3pm | Mondays, March 16th - May 18th, 2020 | $725 |
| Spring Black Foxes | 8-12 | Granby | 9am-3pm | Mondays, March 16th - May 18th, 2020 | $725 |
| Winter Wild Seeds | 5-7 | Newtown | 10am-3pm | Thursdays, January 9th - February 27th, 2020 | $550 |
| Winter Black Foxes | 8-12 | Newtown | 10am-3pm | Thursdays, January 9th - February 27th, 2020 | $550 |
| Spring Wild Seeds | 5-7 | Newtown | 9am-3pm | Thursdays, March 12- May 14th 2020 | $725 |
| Spring Black Foxes | 8-12 | Newtown | 9am-3pm | Thursdays, March 12- May 14th, 2020 | $725 |
| Winter Wild Seeds | 5-7 | Killingworth | 10am-3pm | Tuesdays, January 7th - February 25th, 2020 | $550 |
| Winter Black Foxes | 8-12 | Killingworth | 10am-3pm | Tuesdays, January 7th - February 25th, 2020 | $550 |
| Spring Wild Seeds | 5-7 | Killingworth | 9am-3pm | Tuesdays, March 17th - May 26th, 2020 no class 4/28 | $725 |
| Spring Black Foxes | 8-12 | Killingworth | 9am-3pm | Tuesdays, March 17th - May 26th, 2020 no class 4/28 | $725 |