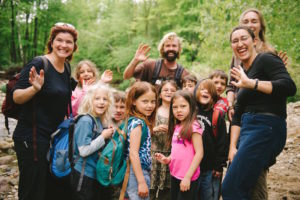 Welcome to Forest Learning Program!
Program Details
Forest Learning Program is a weekly, wilderness-based educational program that takes place during the school year. Once a week, students enrolled in Forest Learning Program spend the day in nature rather than attending their regular school. The Forest Learning Program is inspired by the greater global movement of programming for students called Forest Schools.
Program Dates:
Wednesdays in Newtown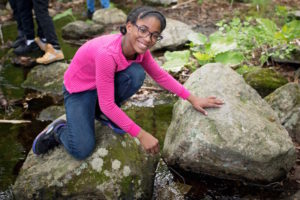 Dates: September 5 – June 5
School Holidays off: Nov 21, Dec 26
Fridays in Newtown
Dates: September 7 – June 7
School Holidays off: Nov 23, Dec 21 and 28
Weather cancellations and delay policy: There are no make up days or refunds for weather cancellations. Programs are typically cancelled due to dangerous weather and driving conditions. Parents will be notified of cancellations and delays by email. More information on cancellations and delays can be found in your parent letter.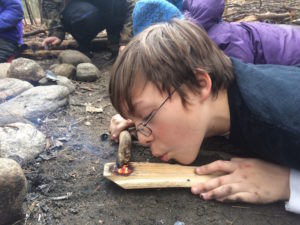 Time & Location:
Time: 9am-3pm
Location: Sticks and Stones Farm, Newtown, CT
Ages and Age Groups:
When possible, Forest Learning Program has two age groupings of 5-7 and 8-12. However, we may create different age groups based on the needs of the group and enrollment.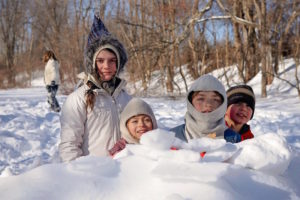 A Typical Day at Forest School
Forest Learning Programs starts with a morning game and gratitude circle. Mornings are spent focusing on wilderness projects and learning skills, such as building a shelter, making pottery, or sneaking invisibly through the forest. After lunch, our afternoons are filled with storytelling, playing in the river, and games that apply the skills we learned in the morning. We close each day with a sharing circle and group song.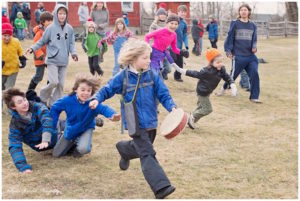 Past projects and activities include: making campfires without matches, making herbal salves from plants, carving spoons, making a wild edible stir-fry, building shelters and forts, making apple sauce and jelly, olympic challenges, weaving, and much more!
Tuition, scholarship, and payment plans
Tuition: $2500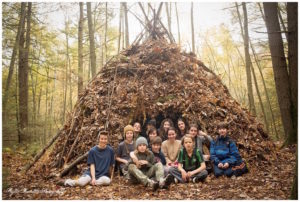 Scholarship: We believe Forest Learning Program and Two Coyotes programming should be available to all children. We encourage families to apply for scholarship assistance if needed. We are able to provide partial scholarships and in some cases, full scholarships.
Payment plan: Tuition can be paid in full or monthly across the year on a payment plan. Monthly payments will be charged to a credit or debit card. If you would like to set up a payment plan, there is a small additional fee for processing monthly payments.
How our Program Supports Your Child's Learning
Time in nature settings has been shown to provide a variety of positive outcomes that can support your child in school and life. Research shows that time in nature supports a child's creativity and problem-solving (Kellert, 2005), enhances cognitive ability (Wells, 2000), improves academic performance (American Institutes for Research, 2005), increases physical activity (Bell and Dyment, 2006), improves social relations (Burdette and Whitaker, 2005), improves self-discipline (Taylor, Kuo and Sullivan, 2001), and reduces stress (Wells and Evans, 2003).
With nature as a dynamic teacher, combined with the natural curiosity of your child, the Forest Learning Program becomes a potent learning environment. Through mentor-led inquiry and process-based learning, your child will be able to investigate the natural world, journal and research their findings, use observations to answer their questions, and synthesize facts into knowledge that is applicable to life. The process of learning at the Forest Learning Program is aligned with the goals of the Next Generation Science Standards and Common Core State Standards. Our program focuses on the root of inquiry and scientific thinking rather than on specific unrelated curriculum topics. This focus on integration, process and thinking rather than content is vital to developing a 21st century skillset that prepares students for college and career readiness. Time in nature helps to promote innovation and flexibility in thinking which strengthens your child's ability to create new and innovative solutions to real world challenges. The Forest Learning Program is more than just fun in the woods, it prepares students for life and gives them an edge for success as they move into college and beyond.
How to approach your school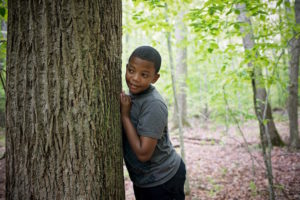 Approaching your school in advance and working collaboratively with your child's teachers is important to the success of this program for your child. Forest Learning Program can provide experiences and opportunities that are not available in traditional school models. In this way, we believe we complement and support the goals of schools to prepare their students for a healthy and successful adult life.
Generally, we have found that teachers are supportive and make accommodations for Forest Learning Program students, including making homework packets for them to stay caught up with their school work. We recommend that communication with schools is in a respectful and collaborative tone.
If you would like support or to learn more on how to let your school know about your child's participation in Forest Learning Program, please contact us at programs@twocoyotes.org. We can connect you with a parent with experience, give you a letter to share with your school, and give you advice over the phone.
Registration is accepted on a rolling basis until the program is full.
| Name | Ages | Location | Time | Date(s) | Price |
| --- | --- | --- | --- | --- | --- |
| Wednesday Forest Learning, Wednesdays | 5-12 | Newtown | 9am-3pm | September 5th, 2018 - June 5th, 2019 (No class November 21st, December 26th) | $2500 |
| Friday Forest Learning, Fridays | 5-12 | Newtown | 9am-3pm | September 7th, 2018 - June 7th, 2019 (No class November 23rd, December 21st and 28th) | $2500 |
| Forest Learning Program Overnight | 5-12 | Newtown | | June 7th, 2019 | $75 |