Spoon Carving Workshop with Andy Dobos

Trees have been used by people to make useful and beautiful objects as far back as we can imagine. Spend a few hours learning to transform fresh pieces of wood into a spoon or ladle (or both if you're quick). Instruction will include how to use tools such as knives, chisels, hatchets and saws safely and effectively. This is a great introduction to woodcarving of any kind. Materials will be provided.
When: Sunday May 5th, 2019; 1pm-4:30pm
Where: Sticks and Stones Farm, 201 Huntingtown Rd, Newtown, CT 06470; Fireside, in the historic Stone Barn.
What to bring: Carving tools (carving knife, spokeshave, wood saw and/or good hatchet) if you have them, otherwise I have tools to share; lunch and water.
Cost: $50 per person
Who: age 13+ (Teens 13-16 who are not Two Coyotes Fire Keepers should attend with an adult).
About your Instructor: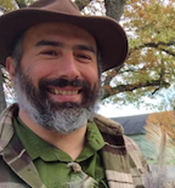 Join Andy Dobos, artist, naturalist and educator specializing in woodcarving and nature skills. He also organizes The Cattail Gathering, a nature skills conference featuring primitive and survival skills, bushcraft, green woodworking, natural health, and naturalist studies workshops for all ages.
He makes a variety of crafts from the forest including custom knives and sheaths, wooden spoons, kuksas and bowls, bark containers, custom animal masks and wood sculpture. The forest is not just the place he gets his materials from, he spends a great deal of time getting to know the plants, animals and landscape. What he can eat, what signs animals leave, how to take care his needs when out for a few days — all of this informs his work. Andy is a gifted mentor at Two Coyotes Wilderness School and has many mentees who can speak to his talents. Andy also teaches drawing and sculpture, wood carving, primitive living skills, wildlife tracking, nature connection and survival skills to people of all ages. You can learn more about Andy at https://theforestwolf.com/.