December 11th: A Benefit Concert for Two Coyotes Wilderness School with "Cello Goblin" Rushad Eggleston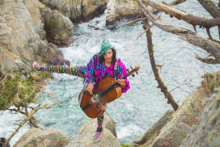 Only 26 tickets left! Join us in the Stone Barn at Sticks and Stones Farm in Newtown, CT to support Two Coyotes as our ears and eyes are tickled by the cello and lyrical mastery of Rushad Eggleston. Prepare to laugh and sing and leave with new tunes in your head.
Rushad Robert Eggleston is an American composer, wild jazz vocalist, kazoo player & performer, who has toured extensively in 49 states and 15+ countries. Eggleston is known for inventing words, and for his imaginative world called The Land of Sneth. A native of Carmel, California, he attended Berklee College of Music on a full scholarship.
Rushad Eggleston electrifies audiences wherever he displays his virtuosic technique, infectious showmanship and musical passion. Grounded in classical music but highly influenced by rock, bluegrass, hip-hop and a myriad of other alternative styles, he has taken his chosen instrument to new levels of creativity and accomplishment.
After studying with Eugene Friesen at Berklee College of Music, Rushad joined Darol Anger in his recording and touring ensembles, Fiddlers 4 and Republic of Strings. Nominated for a Grammy, the Boston Herald called him the premier cellist in modern roots music. His high-octane performances later took shape in the alt-bluegrass band Crooked Still, as well as his own Tornado Rider and Wild Band of Snee. Rushad has taught at a variety of music workshops, including Mark O'Connors Fiddle Camp.
Doors at 6:30, Concert at 7
Tickets in advance:

Adults $15
12 and under $10

Tickets at the door:

Adults $20
12 and under $15
Past Events
At our 2019 Fall Contra Dance Dinner & Auction, we gathered with over 130 of our family, friends, and supporters to celebrate, play, dance, eat, and talk by the fire on a beautiful clear evening. You helped us raise close to $8000 to support our scholarship fund and further our mission of connecting people with nature, community, and self. Thank you to all the individuals and businesses who contributed to the auction to help make it a success.
If you missed the event, there is still time to contribute! Please make a donation today to help us grow and deepen the impact of Two Coyotes in Connecticut.
Special thanks to Phyllis Meredith Photography for capturing the event for us. Images from the evening can be viewed here.
Stay tuned for our next community event!
.